Phoenix Group Holdings' (PHNX) "Buy" Rating Reaffirmed at Canaccord Genuity
Phoenix Group Holdings (LON:PHNX)'s stock had its "buy" rating restated by equities research analysts at Canaccord Genuity in a note issued to investors on Wednesday. They presently have a GBX 930 ($12.14) price target on the stock. Canaccord Genuity's price objective points to a potential upside of 10.91% from the stock's previous close.
PHNX has been the topic of a number of other reports. HSBC boosted their price target on shares of Phoenix Group Holdings from GBX 884 ($11.54) to GBX 920 ($12.01) and gave the stock a "hold" rating in a report on Friday, August 26th. Numis Securities Ltd started coverage on Phoenix Group Holdings in a research note on Tuesday, September 13th. They issued an "add" rating and a GBX 938 ($12.24) price objective on the stock. Shore Capital restated a "hold" rating on shares of Phoenix Group Holdings in a research note on Friday, June 24th. Finally, Deutsche Bank AG lowered their price objective on Phoenix Group Holdings from GBX 1,000 ($13.05) to GBX 870 ($11.36) and set a "hold" rating on the stock in a research note on Wednesday, June 29th. One equities research analyst has rated the stock with a sell rating, six have issued a hold rating and two have assigned a buy rating to the company's stock. Phoenix Group Holdings presently has a consensus rating of "Hold" and a consensus price target of GBX 901.78 ($11.77).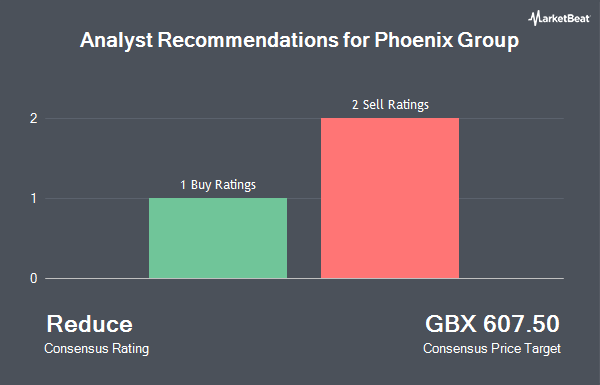 Phoenix Group Holdings (LON:PHNX) traded up 3.46% during midday trading on Wednesday, hitting GBX 867.50. 1,410,257 shares of the stock were exchanged. The company's 50 day moving average is GBX 848.61 and its 200 day moving average is GBX 848.93. Phoenix Group Holdings has a 1-year low of GBX 717.50 and a 1-year high of GBX 952.00. The company's market capitalization is GBX 1.98 billion.
The business also recently declared a dividend, which will be paid on Monday, October 3rd. Stockholders of record on Thursday, September 8th will be given a dividend of GBX 26.70 ($0.35) per share. This represents a dividend yield of 3.22%. The ex-dividend date of this dividend is Thursday, September 8th.
Phoenix Group Holdings Company Profile
Phoenix Group Holdings is a specialist closed life assurance fund consolidator that specializes in the management and acquisition of closed life and pension funds. The Company operates through the Phoenix Life segment. The Phoenix Life segment provides a range of whole life, term assurance and pension products.
Receive News & Stock Ratings for Phoenix Group Holdings Daily - Enter your email address below to receive a concise daily summary of the latest news and analysts' ratings for Phoenix Group Holdings and related stocks with our FREE daily email newsletter.