Liberum Capital Reaffirms "Buy" Rating for SEGRO plc (SGRO)
SEGRO plc (LON:SGRO)'s stock had its "buy" rating reissued by stock analysts at Liberum Capital in a research note issued to investors on Thursday. They presently have a GBX 475 ($6.20) price target on the real estate investment trust's stock. Liberum Capital's price target points to a potential upside of 5.93% from the stock's previous close.
A number of other equities research analysts also recently weighed in on the company. BNP Paribas restated a "neutral" rating and set a GBX 390 ($5.09) target price on shares of SEGRO plc in a research report on Sunday, July 10th. Morgan Stanley upgraded SEGRO plc to an "overweight" rating and boosted their target price for the stock from GBX 420 ($5.48) to GBX 480 ($6.27) in a research report on Wednesday, August 31st. Citigroup Inc. downgraded SEGRO plc to a "neutral" rating and set a GBX 451 ($5.89) target price for the company. in a research report on Monday, July 18th. Canaccord Genuity boosted their target price on SEGRO plc from GBX 405 ($5.29) to GBX 425 ($5.55) and gave the stock a "hold" rating in a research report on Friday, August 26th. Finally, Goldman Sachs Group Inc. dropped their target price on SEGRO plc from GBX 555 ($7.24) to GBX 475 ($6.20) and set a "buy" rating for the company in a research report on Wednesday, June 29th. One analyst has rated the stock with a sell rating, twelve have issued a hold rating and five have assigned a buy rating to the company. SEGRO plc currently has a consensus rating of "Hold" and a consensus target price of GBX 447.39 ($5.84).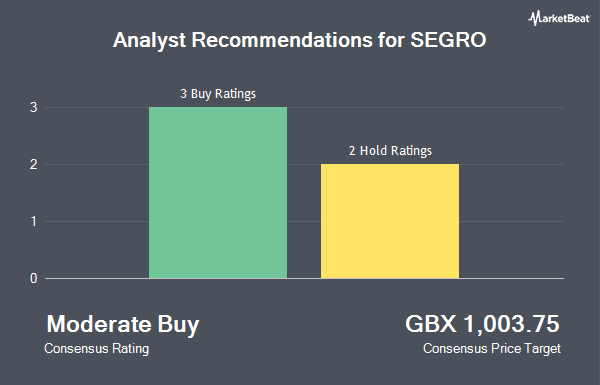 Shares of SEGRO plc (LON:SGRO) opened at 448.10 on Thursday. SEGRO plc has a 12 month low of GBX 331.40 and a 12 month high of GBX 460.40. The firm's 50-day moving average price is GBX 446.84 and its 200-day moving average price is GBX 427.55. The firm's market capitalization is GBX 3.37 billion.
The business also recently declared a dividend, which will be paid on Friday, September 30th. Investors of record on Thursday, August 18th will be given a dividend of GBX 5.20 ($0.07) per share. The ex-dividend date of this dividend is Thursday, August 18th. This represents a yield of 1.19%.
About SEGRO plc
SEGRO plc is a United Kingdom-based real estate investment trust. The Company owns, develops and manages warehouse and industrial property assets in the United Kingdom and Continental Europe. Its portfolio of warehouse and light industrial buildings is concentrated in European countries. The Company's segments are the geographical business units, which include Greater London, Thames Valley and National Logistics, Northern Europe (principally Germany), Southern Europe (principally France) and Central Europe (principally Poland).
Receive News & Stock Ratings for SEGRO plc Daily - Enter your email address below to receive a concise daily summary of the latest news and analysts' ratings for SEGRO plc and related stocks with our FREE daily email newsletter.