Metro Bank PLC (MTRO) Receives New Coverage from Analysts at Numis Securities Ltd
Numis Securities Ltd began coverage on shares of Metro Bank PLC (LON:MTRO) in a research note issued to investors on Wednesday. The firm issued a sell rating and a GBX 1,800 ($23.50) price target on the stock.
Separately, Goldman Sachs Group Inc. reiterated a neutral rating and set a GBX 2,070 ($27.02) price objective on shares of Metro Bank PLC in a report on Wednesday, June 15th. Two analysts have rated the stock with a sell rating, one has assigned a hold rating and two have issued a buy rating to the company's stock. The company presently has a consensus rating of Hold and a consensus target price of GBX 2,334 ($30.47).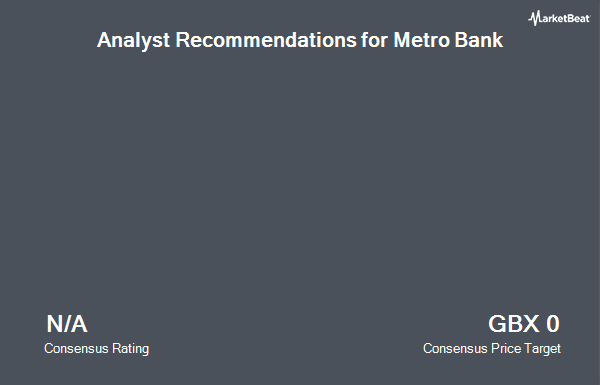 Metro Bank PLC (LON:MTRO) opened at 2745.00 on Wednesday. The stock has a 50 day moving average price of GBX 2,532.75 and a 200-day moving average price of GBX 2,142.66. Metro Bank PLC has a one year low of GBX 1,501.00 and a one year high of GBX 2,821.00. The firm's market cap is GBX 1.91 billion.
In other Metro Bank PLC news, insider Bernau,Stuart sold 2,000 shares of the business's stock in a transaction that occurred on Tuesday, August 16th. The stock was sold at an average price of GBX 2,325 ($30.35), for a total value of £46,500 ($60,697.04).
About Metro Bank PLC
Metro Bank PLC, located in London, the United Kingdom, is a banking service provider.
Receive News & Stock Ratings for Metro Bank PLC Daily - Enter your email address below to receive a concise daily summary of the latest news and analysts' ratings for Metro Bank PLC and related stocks with our FREE daily email newsletter.