PZ Cussons plc (PZC) Cut to Reduce at Numis Securities Ltd
PZ Cussons plc (LON:PZC) was downgraded by research analysts at Numis Securities Ltd to a "reduce" rating in a research note issued to investors on Thursday. They currently have a GBX 324 ($4.23) price objective on the stock. Numis Securities Ltd's price objective points to a potential downside of 11.74% from the stock's current price.
A number of other research analysts have also recently issued reports on the stock. Canaccord Genuity cut shares of PZ Cussons plc to a "hold" rating and set a GBX 345 ($4.50) price objective for the company. in a report on Friday, June 3rd. JPMorgan Chase & Co. reiterated a "neutral" rating and issued a GBX 330 ($4.31) price target on shares of PZ Cussons plc in a report on Thursday, June 30th. Shore Capital reiterated a "hold" rating on shares of PZ Cussons plc in a report on Thursday, June 9th. Finally, HSBC upped their price target on shares of PZ Cussons plc from GBX 300 ($3.92) to GBX 322 ($4.20) and gave the company a "hold" rating in a report on Friday, June 10th. Four analysts have rated the stock with a hold rating and two have assigned a buy rating to the company's stock. PZ Cussons plc currently has a consensus rating of "Hold" and an average target price of GBX 329.67 ($4.30).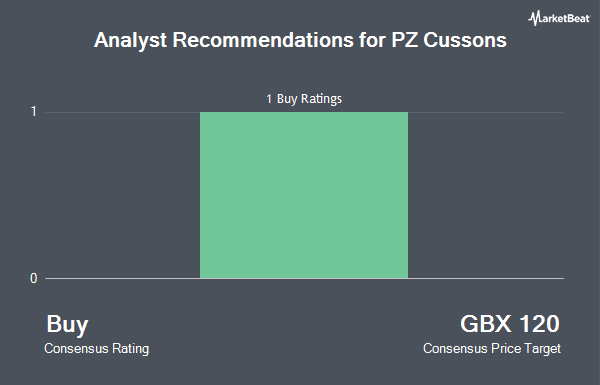 Shares of PZ Cussons plc (LON:PZC) opened at 368.90 on Thursday. The firm has a 50-day moving average of GBX 347.60 and a 200-day moving average of GBX 328.98. PZ Cussons plc has a 52-week low of GBX 240.70 and a 52-week high of GBX 373.30. The stock's market cap is GBX 1.54 billion.
The firm also recently disclosed a dividend, which will be paid on Thursday, October 6th. Stockholders of record on Thursday, August 11th will be given a GBX 5.50 ($0.07) dividend. This represents a dividend yield of 1.7%. The ex-dividend date is Thursday, August 11th. This is a positive change from PZ Cussons plc's previous dividend of $2.61.
In other PZ Cussons plc news, insider Silver,Caroline acquired 10,000 shares of the business's stock in a transaction dated Thursday, September 1st. The shares were acquired at an average price of GBX 333 ($4.35) per share, with a total value of £33,300 ($43,466.91).
About PZ Cussons plc
PZ Cussons Plc is a United Kingdom-based consumer products company. The Company's personal care products include bar soap, liquid hand wash, shower gel, skincare and hair care. The Company's home care consists of fabric care, which includes products, such as laundry soap and branded bulk and packaged washing powder, and dish care, which includes its Morning Fresh brand.
Receive News & Stock Ratings for PZ Cussons plc Daily - Enter your email address below to receive a concise daily summary of the latest news and analysts' ratings for PZ Cussons plc and related stocks with our FREE daily email newsletter.