Miton Group PLC (MGR) Insider Ian Michael Chimes Buys 492 Shares of Stock
Miton Group PLC (LON:MGR) insider Ian Michael Chimes purchased 492 shares of the firm's stock in a transaction on Friday, September 30th. The shares were purchased at an average price of GBX 31 ($0.40) per share, for a total transaction of £152.52 ($199.09).
Shares of Miton Group PLC (LON:MGR) opened at 31.50 on Monday. The stock's market cap is GBX 47.56 million. Miton Group PLC has a 52-week low of GBX 20.00 and a 52-week high of GBX 36.00. The stock's 50 day moving average price is GBX 27.58 and its 200-day moving average price is GBX 26.17.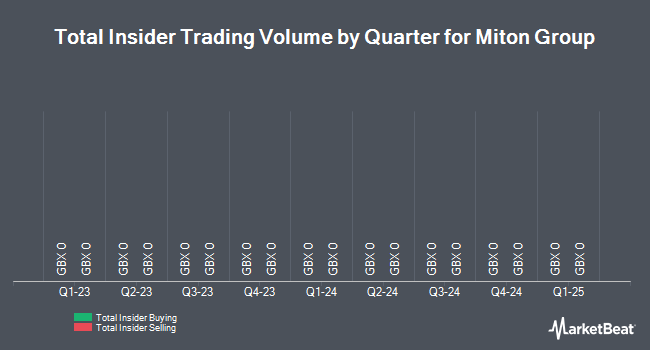 Separately, Peel Hunt restated an "outperform" rating on shares of Miton Group PLC in a research note on Monday, September 5th.
About Miton Group PLC
Miton Group plc, formerly MAM Funds plc, is an investment management company. The Company provides fund management services. Its funds are invested in a range of asset classes under various investment mandates, including multi-asset, equity and portfolios of collective investment schemes. Its product range includes equities, such as CF Miton UK Multi Cap Income Fund and FP Miton Income Fund; multi-assets, such as CF Miton Cautious Multi Asset Fund and PFS Miton Cautious Monthly Income Fund; fund of investment trusts, such as CF Miton Worldwide Opportunities Fund, and closed-end funds, such as The Diverse Income Trust plc and Miton Global Opportunities plc.
Receive News & Stock Ratings for Miton Group PLC Daily - Enter your email address below to receive a concise daily summary of the latest news and analysts' ratings for Miton Group PLC and related stocks with our FREE daily email newsletter.