JPMorgan Chase & Co. Reiterates "Overweight" Rating for Weir Group (WEIGF)
Weir Group (OTCMKTS:WEIGF)'s stock had its "overweight" rating reaffirmed by analysts at JPMorgan Chase & Co. in a research report issued to clients and investors on Friday.
Several other analysts have also recently commented on WEIGF. Morgan Stanley upgraded Weir Group from an "equal weight" rating to an "overweight" rating in a report on Wednesday, September 7th. Credit Suisse Group AG started coverage on Weir Group in a report on Tuesday, September 20th. They issued an "outperform" rating on the stock. Three analysts have rated the stock with a sell rating, four have assigned a hold rating and seven have issued a buy rating to the company. The stock has a consensus rating of "Hold".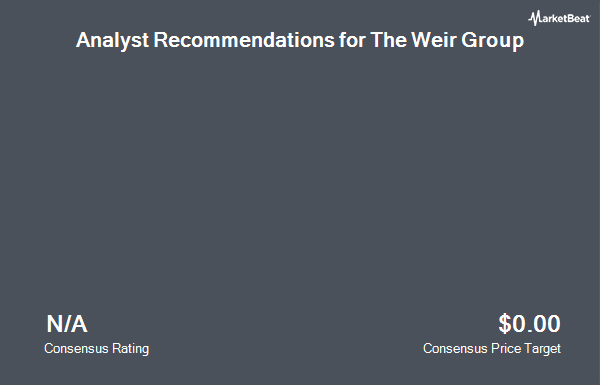 Weir Group (OTCMKTS:WEIGF) opened at 22.20 on Friday. The company's market capitalization is $4.76 billion. Weir Group has a 1-year low of $12.15 and a 1-year high of $22.20. The company has a 50 day moving average of $21.17 and a 200 day moving average of $18.30.
Receive News & Stock Ratings for Weir Group Daily - Enter your email address below to receive a concise daily summary of the latest news and analysts' ratings for Weir Group and related stocks with our FREE daily email newsletter.