Argan Inc. (AGX) Director William F. Leimkuhler Sells 5,000 Shares
Argan Inc. (NYSE:AGX) Director William F. Leimkuhler sold 5,000 shares of Argan stock in a transaction that occurred on Friday, September 30th. The stock was sold at an average price of $59.12, for a total transaction of $295,600.00. Following the completion of the transaction, the director now directly owns 25,000 shares in the company, valued at $1,478,000. The transaction was disclosed in a document filed with the Securities & Exchange Commission, which is available through this link.
Argan Inc. (NYSE:AGX) opened at 58.71 on Wednesday. Argan Inc. has a 52-week low of $28.03 and a 52-week high of $59.53. The stock has a market capitalization of $882.53 million, a P/E ratio of 18.04 and a beta of 1.29. The stock has a 50 day moving average of $52.43 and a 200 day moving average of $42.24.
Argan (NYSE:AGX) last issued its quarterly earnings results on Tuesday, September 6th. The company reported $1.29 earnings per share (EPS) for the quarter, topping the Thomson Reuters' consensus estimate of $0.79 by $0.50. The business had revenue of $162.50 million for the quarter. Argan had a net margin of 9.45% and a return on equity of 21.27%. On average, equities research analysts forecast that Argan Inc. will post $3.62 EPS for the current year.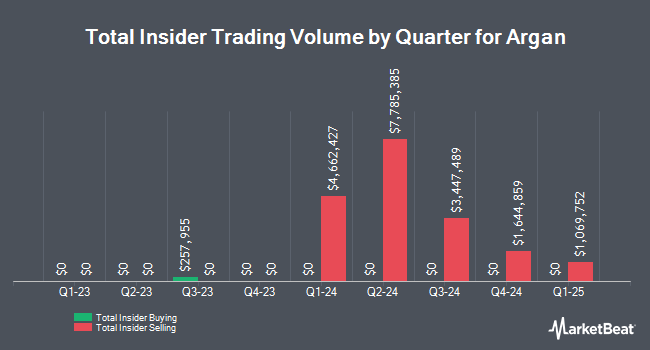 The business also recently declared an annual dividend, which will be paid on Friday, October 28th. Investors of record on Tuesday, October 18th will be given a dividend of $0.70 per share. The ex-dividend date of this dividend is Friday, October 14th. This represents a yield of 1.27%. Argan's dividend payout ratio (DPR) is 21.41%.
Several research firms have recently weighed in on AGX. Zacks Investment Research raised shares of Argan from a "hold" rating to a "strong-buy" rating and set a $61.00 target price on the stock in a research report on Thursday, September 8th. Lake Street Capital began coverage on shares of Argan in a research report on Thursday, June 9th. They issued a "buy" rating on the stock.
Argan Company Profile
Argan, Inc is a holding company. The Company conducts operations through its subsidiaries, Gemma Power Systems, LLC and affiliates (GPS), Atlantic Projects Company Limited (APC), Southern Maryland Cable, Inc (SMC) and The Roberts Company (Roberts). Through GPS and APC, the Company's power industry services segment provides engineering, procurement, construction, commissioning, operations management, maintenance, development, technical and consulting services to the power generation and renewable energy markets.
Receive News & Stock Ratings for Argan Inc. Daily - Enter your email address below to receive a concise daily summary of the latest news and analysts' ratings for Argan Inc. and related stocks with our FREE daily email newsletter.