Bradley Leonard Ormsby Purchases 12 Shares of Judges Scientific PLC (JDG) Stock
Judges Scientific PLC (LON:JDG) insider Bradley Leonard Ormsby purchased 12 shares of the firm's stock in a transaction on Wednesday, October 5th. The shares were purchased at an average cost of GBX 1,302 ($17.00) per share, with a total value of £156.24 ($203.94).
Shares of Judges Scientific PLC (LON:JDG) traded up 1.55% during trading on Friday, hitting GBX 1310.00. 16,230 shares of the company traded hands. Judges Scientific PLC has a 52-week low of GBX 1,125.00 and a 52-week high of GBX 1,943.75. The company has a 50-day moving average of GBX 1,369.46 and a 200-day moving average of GBX 1,524.20. The stock's market capitalization is GBX 79.94 million.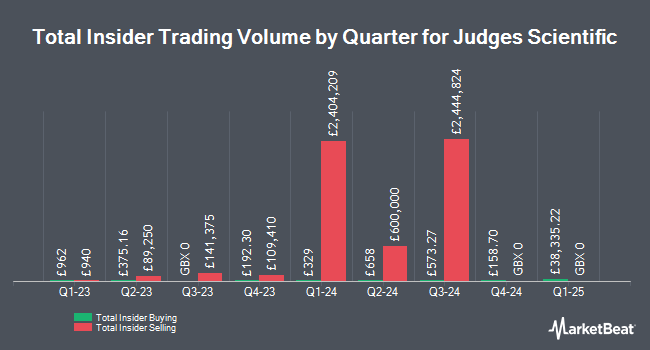 The firm also recently disclosed a dividend, which will be paid on Friday, November 4th. Investors of record on Thursday, October 6th will be given a dividend of GBX 9 ($0.12) per share. This represents a dividend yield of 0.7%. This is an increase from Judges Scientific PLC's previous dividend of $1.00. The ex-dividend date is Thursday, October 6th.
Separately, Shore Capital reissued a "house stock" rating on shares of Judges Scientific PLC in a research report on Wednesday, July 20th.
About Judges Scientific PLC
Judges Scientific plc is a United Kingdom-based company, which is engaged in the acquisition and development of a portfolio of scientific instrument businesses. The Company's activities are predominantly in or in support of the design and manufacture of scientific instruments. Its segments include Materials Sciences and Vacuum.
Receive News & Stock Ratings for Judges Scientific PLC Daily - Enter your email address below to receive a concise daily summary of the latest news and analysts' ratings for Judges Scientific PLC and related stocks with our FREE daily email newsletter.