GKN plc (GKNLY) Receives New Coverage from Analysts at HSBC
HSBC assumed coverage on shares of GKN plc (OTCMKTS:GKNLY) in a research report released on Thursday morning. The firm issued a buy rating on the stock.
A number of other equities research analysts have also recently commented on GKNLY. Goldman Sachs Group Inc. cut GKN plc from a buy rating to a neutral rating in a report on Monday, June 27th. Citigroup Inc. cut GKN plc from a buy rating to a neutral rating in a report on Wednesday, July 27th. Four equities research analysts have rated the stock with a hold rating, four have assigned a buy rating and one has assigned a strong buy rating to the stock. The company presently has an average rating of Buy.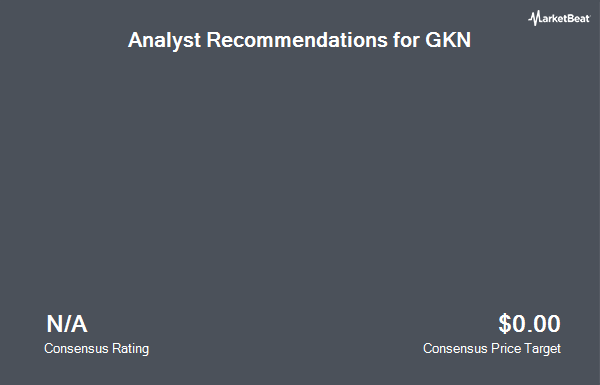 GKN plc (OTCMKTS:GKNLY) traded down 2.52% during midday trading on Thursday, reaching $4.06. The company's stock had a trading volume of 54,734 shares. GKN plc has a 12-month low of $3.36 and a 12-month high of $4.75. The company's 50-day moving average is $4.13 and its 200 day moving average is $4.04. The firm has a market cap of $6.97 billion, a price-to-earnings ratio of 27.07 and a beta of 1.47.
GKN plc Company Profile
GKN plc is a global engineering company. The Company is engaged in the design, manufacture and service of systems and components for original equipment manufacturers. The Company operates in four segments: GKN Aerospace, GKN Driveline, GKN Powder Metallurgy and GKN Land Systems. Its GKN Aerospace segment is a supplier of aerostructures, engine products and systems, and electrical wiring systems to the global aerospace industry.
Receive News & Stock Ratings for GKN plc Daily - Enter your email address below to receive a concise daily summary of the latest news and analysts' ratings for GKN plc and related stocks with our FREE daily email newsletter.