Norwood Financial Co. (NWFL) to Issue $0.31 Quarterly Dividend
Norwood Financial Co. (NASDAQ:NWFL) declared a quarterly dividend on Friday, September 16th. Stockholders of record on Friday, October 14th will be given a dividend of 0.31 per share by the financial services provider on Tuesday, November 1st. This represents a $1.24 dividend on an annualized basis and a dividend yield of 4.22%. The ex-dividend date of this dividend is Wednesday, October 12th.
Norwood Financial (NASDAQ:NWFL) opened at 29.4124 on Friday. The stock has a 50 day moving average price of $29.12 and a 200-day moving average price of $28.30. The company has a market cap of $108.15 million and a price-to-earnings ratio of 19.1238. Norwood Financial has a 12-month low of $26.25 and a 12-month high of $30.10.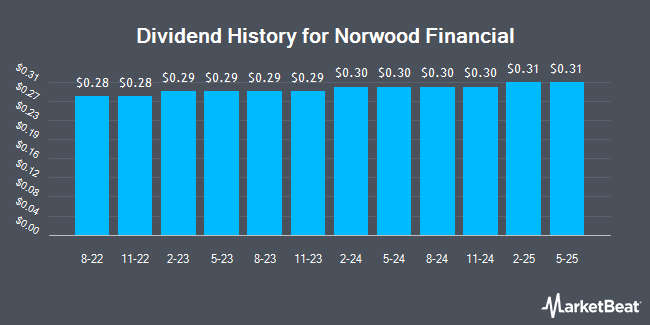 About Norwood Financial
Norwood Financial Corp. is a bank holding company. The Company operates through its subsidiary, Wayne Bank (the Bank). The Bank is a chartered bank and trust company. The Bank is an independent community bank that operates over five offices in the Wayne County, approximately three offices in Pike County, four offices in Monroe County and over three offices in Lackawanna County.
Receive News & Stock Ratings for Norwood Financial Co. Daily - Enter your email address below to receive a concise daily summary of the latest news and analysts' ratings for Norwood Financial Co. and related stocks with our FREE daily email newsletter.