Q3 2016 EPS Estimates for Cipher Pharmaceuticals Inc (CPH) Lowered by Analyst
Cipher Pharmaceuticals Inc (TSE:CPH) – Analysts at Cormark decreased their Q3 2016 earnings per share estimates for Cipher Pharmaceuticals in a research report issued on Monday. Cormark analyst D. Novak now expects that the brokerage will post earnings of ($0.13) per share for the quarter, down from their previous forecast of ($0.07). Cormark also issued estimates for Cipher Pharmaceuticals' Q4 2016 earnings at ($0.08) EPS, FY2016 earnings at ($0.51) EPS and Q4 2017 earnings at $0.04 EPS.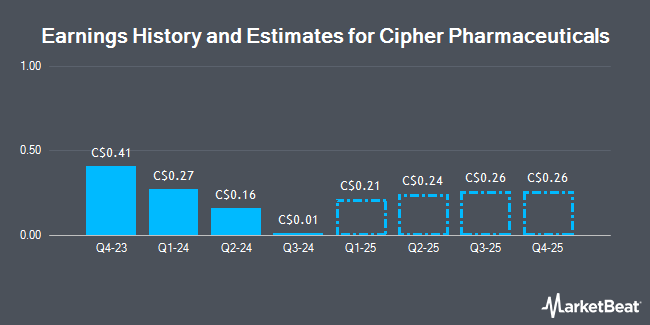 Other equities analysts have also issued reports about the company. TD Securities reaffirmed a "buy" rating and set a C$7.50 target price on shares of Cipher Pharmaceuticals in a research report on Thursday, August 11th. GMP Securities lowered Cipher Pharmaceuticals from a "buy" rating to a "hold" rating in a research report on Thursday, August 11th.
Shares of Cipher Pharmaceuticals (TSE:CPH) opened at 4.87 on Wednesday. The firm's market cap is $127.57 million. The firm's 50-day moving average price is $5.21 and its 200 day moving average price is $6.58. Cipher Pharmaceuticals has a one year low of $4.87 and a one year high of $8.18.
Cipher Pharmaceuticals Company Profile
Cipher Pharmaceuticals Inc is a specialty pharmaceutical dermatology company. The Company has a portfolio of commercial and late-stage products. It operates in the specialty pharmaceuticals segment. It acquires products and compounds for treatment of various medical needs. Its commercial product portfolio includes ABSORICA; SITAVIG; NUVAIL; BIONECT; CLN8; INOVA; PRO:12 MOUSSE; AL12; LOTION UMECTA; ACLARO; EPURIS; VANIQA; ACTIKERALL; BETEFLAM; LIPOFEN; CONZIP, and DURELA.
Receive News & Stock Ratings for Cipher Pharmaceuticals Inc Daily - Enter your email address below to receive a concise daily summary of the latest news and analysts' ratings for Cipher Pharmaceuticals Inc and related stocks with our FREE daily email newsletter.