Schmitt Industries Inc. (SMIT) Announces Earnings Results
Schmitt Industries Inc. (NASDAQ:SMIT) announced its quarterly earnings results on Friday. The company reported ($0.04) earnings per share for the quarter. Schmitt Industries had a negative net margin of 12.96% and a negative return on equity of 17.48%. The company earned $2.90 million during the quarter, compared to analysts' expectations of $3.10 million.
Shares of Schmitt Industries (NASDAQ:SMIT) traded down 4.61% during midday trading on Friday, reaching $1.45. 64,799 shares of the company were exchanged. The company's market capitalization is $4.34 million. Schmitt Industries has a 52-week low of $1.37 and a 52-week high of $4.49. The stock's 50-day moving average price is $1.56 and its 200-day moving average price is $1.95.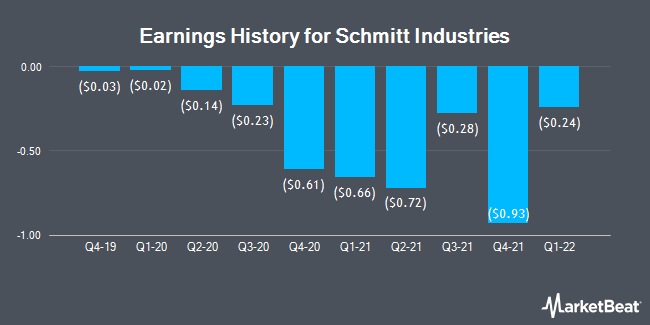 About Schmitt Industries
Schmitt Industries, Inc designs, manufactures and sells test and measurement products for two main business segments: the Balancer segment and the Measurement segment. The Company operates through two segments: the design and assembly of dynamic balancing systems and components for the machine tool industry (Balancer), and the design and assembly of laser-based test and measurement systems (Measurement).
Receive News & Stock Ratings for Schmitt Industries Inc. Daily - Enter your email address below to receive a concise daily summary of the latest news and analysts' ratings for Schmitt Industries Inc. and related stocks with our FREE daily email newsletter.