BSM Technologies Inc (GPS) to Post FY2018 Earnings of $0.11 Per Share, Clarus Securities Forecasts
BSM Technologies Inc (TSE:GPS) – Clarus Securities lifted their FY2018 earnings per share estimates for shares of BSM Technologies in a report released on Wednesday. Clarus Securities analyst N. Atkinson now forecasts that the firm will earn $0.11 per share for the year, up from their previous estimate of $0.08.
GPS has been the topic of several other research reports. Canaccord Genuity boosted their price target on shares of BSM Technologies from C$1.75 to C$2.00 and gave the company a "buy" rating in a research report on Wednesday. Paradigm Capital boosted their price objective on shares of BSM Technologies from C$1.60 to C$1.90 and gave the company a "buy" rating in a report on Wednesday.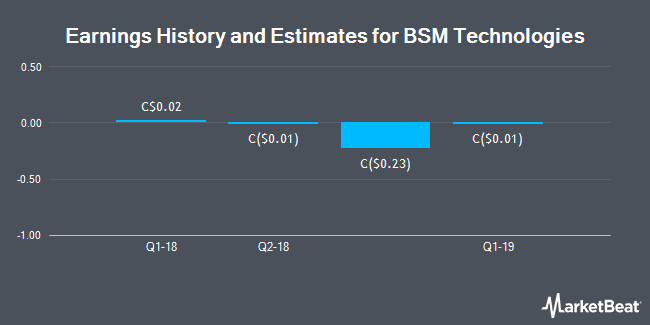 BSM Technologies (TSE:GPS) traded up 2.16% during mid-day trading on Thursday, hitting $1.42. 654,822 shares of the stock were exchanged. The company has a 50 day moving average of $1.19 and a 200 day moving average of $1.10. The firm's market cap is $118.19 million. BSM Technologies has a 12-month low of $0.78 and a 12-month high of $1.45.
BSM Technologies Company Profile
BSM Technologies Inc (BSM) is a Canada-based company engaged in the development and provision of hardware and software solutions. The Company's software and hardware solutions provide a link between its customers' operations and the systems they use to run their business. Its solutions are capable of being deployed over cellular, wireless fidelity (Wi-Fi) or satellite networks.
Receive News & Stock Ratings for BSM Technologies Inc Daily - Enter your email address below to receive a concise daily summary of the latest news and analysts' ratings for BSM Technologies Inc and related stocks with our FREE daily email newsletter.