Mexico Fund Inc. (MXF) to Issue Quarterly Dividend of $0.14
Mexico Fund Inc. (NYSE:MXF) declared a quarterly dividend on Tuesday, September 13th. Stockholders of record on Tuesday, October 18th will be paid a dividend of 0.1415 per share by the investment management company on Thursday, October 27th. This represents a $0.57 annualized dividend and a dividend yield of 3.57%. The ex-dividend date is Friday, October 14th.
Mexico Fund (NYSE:MXF) opened at 15.89 on Friday. Mexico Fund has a 12 month low of $14.25 and a 12 month high of $18.98. The stock's 50 day moving average is $16.22 and its 200 day moving average is $16.69.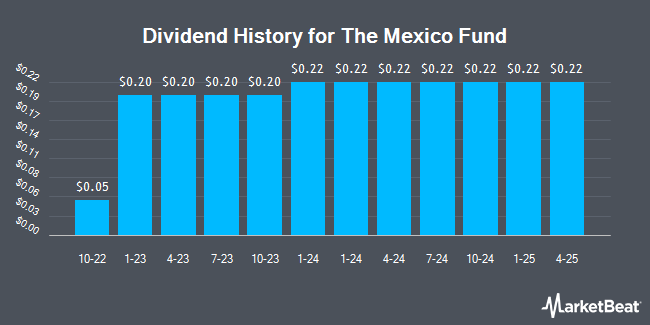 About Mexico Fund
The Mexico Fund, Inc is a non-diversified closed-end management investment company. The Fund's investment objective is to seek long-term capital appreciation through investment in securities, primarily equity, listed on the Mexican Stock Exchange. The Fund provides a vehicle to investors wishing to invest in Mexican companies through a managed non-diversified portfolio as part of their overall investment program.
Receive News & Stock Ratings for Mexico Fund Inc. Daily - Enter your email address below to receive a concise daily summary of the latest news and analysts' ratings for Mexico Fund Inc. and related stocks with our FREE daily email newsletter.