BP plc (BP) Given "Overweight" Rating at Barclays PLC
BP plc (LON:BP)'s stock had its "overweight" rating reaffirmed by investment analysts at Barclays PLC in a report issued on Monday. They presently have a GBX 600 ($7.83) price objective on the oil and gas exploration company's stock. Barclays PLC's price target indicates a potential upside of 24.24% from the company's current price.
A number of other analysts also recently issued reports on the stock. Jefferies Group reaffirmed a "hold" rating and set a GBX 400 ($5.22) price target on shares of BP plc in a report on Tuesday, August 2nd. Goldman Sachs Group Inc. set a GBX 405 ($5.29) price objective on shares of BP plc and gave the stock a "neutral" rating in a report on Friday, July 8th. HSBC reissued a "buy" rating and issued a GBX 430 ($5.61) price objective on shares of BP plc in a report on Monday, June 20th. Morgan Stanley reissued an "overweight" rating on shares of BP plc in a report on Monday, July 11th. Finally, Citigroup Inc. raised shares of BP plc to a "buy" rating and raised their price objective for the stock from GBX 370 ($4.83) to GBX 410 ($5.35) in a report on Thursday, June 16th. One investment analyst has rated the stock with a sell rating, fourteen have issued a hold rating and eleven have given a buy rating to the stock. BP plc currently has a consensus rating of "Hold" and a consensus target price of GBX 441.44 ($5.76).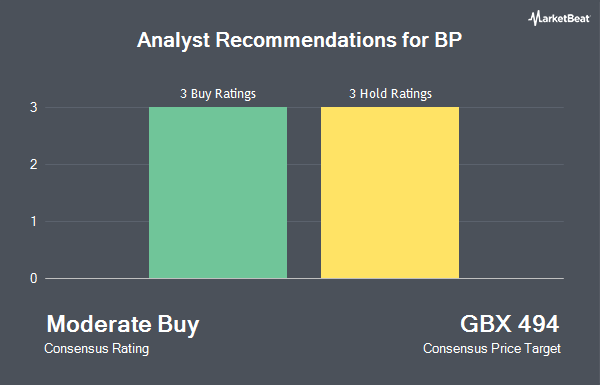 BP plc (LON:BP) opened at 490.50 on Monday. The stock has a 50 day moving average of GBX 436.20 and a 200-day moving average of GBX 401.00. BP plc has a one year low of GBX 249.44 and a one year high of GBX 492.65. The company's market cap is GBX 92.10 billion.
BP plc Company Profile
BP p.l.c. is an integrated oil and gas company. The Company provides its customers with fuel for transportation, energy for heat and light, lubricants to keep engines moving and the petrochemicals products used to make everyday items as diverse as paints, clothes and packaging. The Company operates through three segments: Upstream, Downstream and Rosneft.
Receive News & Stock Ratings for BP plc Daily - Enter your email address below to receive a concise daily summary of the latest news and analysts' ratings for BP plc and related stocks with our FREE daily email newsletter.