DZ Bank AG Reiterates "Buy" Rating for Deutsche Post AG (DPSGY)
Deutsche Post AG (OTCMKTS:DPSGY)'s stock had its "buy" rating reissued by research analysts at DZ Bank AG in a report issued on Monday.
DPSGY has been the subject of a number of other research reports. Morgan Stanley reaffirmed a "buy" rating on shares of Deutsche Post AG in a report on Friday, June 17th. Zacks Investment Research raised Deutsche Post AG from a "sell" rating to a "hold" rating in a report on Tuesday, August 9th. One investment analyst has rated the stock with a sell rating, two have issued a hold rating and five have issued a buy rating to the company. The stock has a consensus rating of "Buy" and a consensus price target of $35.00.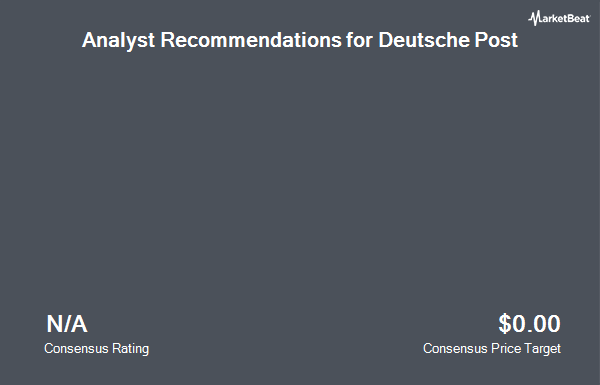 Deutsche Post AG (OTCMKTS:DPSGY) opened at 30.34 on Monday. Deutsche Post AG has a 52-week low of $22.20 and a 52-week high of $32.80. The stock's 50 day moving average price is $31.38 and its 200-day moving average price is $29.60. The company has a market capitalization of $36.57 billion, a P/E ratio of 17.93 and a beta of 1.55.
About Deutsche Post AG
Deutsche Post AG is a Germany-based logistics services provider. The Company operates four main business divisions: Mail; Express; Global Forwarding, Freight, and Supply Chain. The Mail business division comprises the transport and delivery of written communications and serves as an end-to-end service provider for the management of written communications.
Receive News & Stock Ratings for Deutsche Post AG Daily - Enter your email address below to receive a concise daily summary of the latest news and analysts' ratings for Deutsche Post AG and related stocks with our FREE daily email newsletter.