Softcat PLC (SCT) Insider Graham Charlton Purchases 48 Shares of Stock
Softcat PLC (LON:SCT) insider Graham Charlton acquired 48 shares of the firm's stock in a transaction that occurred on Friday, October 7th. The shares were purchased at an average price of GBX 311 ($3.85) per share, with a total value of £149.28 ($184.75).
Softcat PLC (LON:SCT) opened at 309.90 on Wednesday. The stock has a 50 day moving average of GBX 324.29 and a 200 day moving average of GBX 329.31. Softcat PLC has a 12-month low of GBX 240.00 and a 12-month high of GBX 383.80. The firm's market cap is GBX 607.20 million.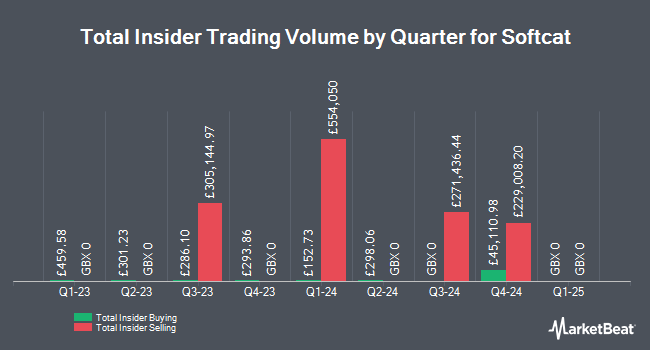 SCT has been the subject of several research analyst reports. Berenberg Bank reiterated a "buy" rating and issued a GBX 425 ($5.26) price target on shares of Softcat PLC in a report on Thursday, September 29th. Citigroup Inc. initiated coverage on shares of Softcat PLC in a report on Tuesday, September 13th. They issued a "buy" rating and a GBX 410 ($5.07) price target for the company. Two research analysts have rated the stock with a hold rating and three have issued a buy rating to the stock. The company currently has an average rating of "Buy" and an average price target of GBX 380 ($4.70).
About Softcat PLC
Softcat plc, formerly Softcat Limited, is an information technology (IT) infrastructure and services provider. The Company provides corporate and public sector organization's with IT infrastructure solutions, including the products and services they require to design, implement, support and manage these solutions, on premise, in the cloud or a combination of both.
Receive News & Stock Ratings for Softcat PLC Daily - Enter your email address below to receive a concise daily summary of the latest news and analysts' ratings for Softcat PLC and related stocks with our FREE daily email newsletter.