Walker Greenbank plc to Issue Dividend of GBX 0.55 (WGB)
Walker Greenbank plc (LON:WGB) declared a dividend on Wednesday, October 12th. Stockholders of record on Thursday, October 20th will be given a dividend of GBX 0.55 ($0.01) per share on Friday, November 18th. This represents a dividend yield of 0.27%. The ex-dividend date of this dividend is Thursday, October 20th. The official announcement can be seen at this link.
Walker Greenbank plc (LON:WGB) traded down 0.49% on Wednesday, hitting GBX 202.50. The stock had a trading volume of 1,759,479 shares. The firm's market cap is GBX 121.85 million. The firm's 50-day moving average price is GBX 210.51 and its 200-day moving average price is GBX 196.50. Walker Greenbank plc has a 1-year low of GBX 155.15 and a 1-year high of GBX 221.85.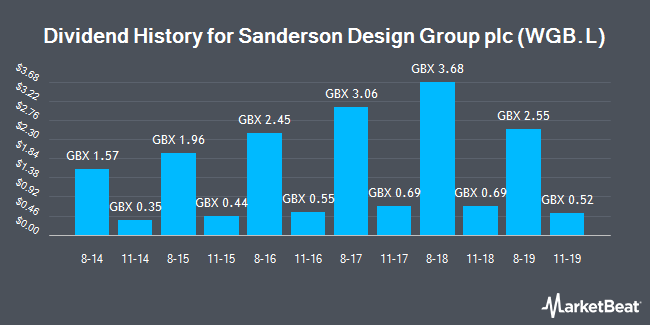 Several brokerages have recently weighed in on WGB. Investec reissued a "buy" rating and set a GBX 230 ($2.85) price objective on shares of Walker Greenbank plc in a report on Wednesday, August 3rd. N+1 Singer raised Walker Greenbank plc to a "buy" rating and lifted their price objective for the stock from GBX 220 ($2.72) to GBX 250 ($3.09) in a report on Wednesday.
About Walker Greenbank plc
Walker Greenbank PLC is a United Kingdom-based international luxury interior furnishings company. The Company is a designer, manufacturer and distributor of furnishings, fabrics and wallpapers. The Company manages its operations in two reportable segments: brands and manufacturing. The Brands segment comprises the design, marketing, sales and distribution, and licensing activities of Sanderson, Morris & Co, Harlequin, Zoffany, Anthology and Scion brands operated from the United Kingdom and its foreign subsidiaries in the United States and France.
Receive News & Stock Ratings for Walker Greenbank plc Daily - Enter your email address below to receive a concise daily summary of the latest news and analysts' ratings for Walker Greenbank plc and related stocks with our FREE daily email newsletter.