Brokers Set Expectations for Global Net Lease Inc.'s Q3 2016 Earnings (GNL)
Global Net Lease Inc. (NYSE:GNL) – Research analysts at FBR & Co issued their Q3 2016 EPS estimates for shares of Global Net Lease in a note issued to investors on Tuesday. FBR & Co analyst D. Corak anticipates that the brokerage will post earnings of $0.22 per share for the quarter. FBR & Co has a "Marketperform" rating on the stock. FBR & Co also issued estimates for Global Net Lease's Q4 2016 earnings at $0.21 EPS, FY2016 earnings at $0.83 EPS, Q1 2017 earnings at $0.20 EPS, Q2 2017 earnings at $0.20 EPS, Q3 2017 earnings at $0.21 EPS, Q4 2017 earnings at $0.21 EPS, FY2017 earnings at $0.81 EPS and FY2018 earnings at $0.85 EPS.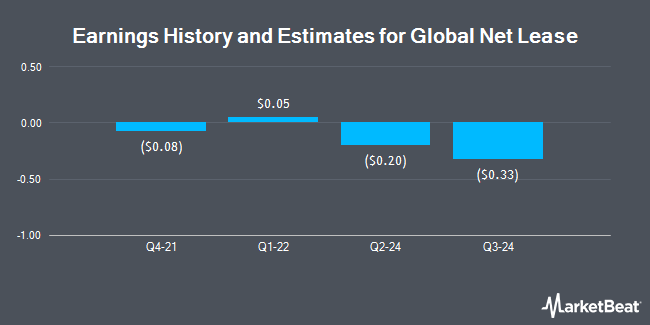 Global Net Lease (NYSE:GNL) remained flat at $7.65 during trading on Friday. The stock had a trading volume of 209,312 shares. The company has a market capitalization of $1.29 billion, a P/E ratio of 32.97 and a beta of 0.53. Global Net Lease has a 52-week low of $5.77 and a 52-week high of $9.29. The firm's 50 day moving average is $8.09 and its 200 day moving average is $8.35.
Global Net Lease (NYSE:GNL) last posted its earnings results on Monday, August 8th. The company reported $0.09 earnings per share (EPS) for the quarter. Global Net Lease had a return on equity of 3.36% and a net margin of 18.87%. The firm had revenue of $53.20 million for the quarter, compared to analyst estimates of $49.10 million.
The company also recently disclosed a monthly dividend, which will be paid on Thursday, December 15th. Investors of record on Thursday, December 8th will be paid a $0.0592 dividend. This represents a $0.71 annualized dividend and a yield of 9.28%. The ex-dividend date is Tuesday, December 6th. Global Net Lease's payout ratio is currently 308.71%.
About Global Net Lease
Global Net Lease, Inc is a real estate investment trust that focuses on acquiring and managing a portfolio of strategically located commercial real estate properties. The Company's business consists of owning, managing, operating, leasing, acquiring, investing in and disposing of real estate assets. The Company focuses its investments on commercial and retail properties, including special use single tenant properties.
Receive News & Stock Ratings for Global Net Lease Inc. Daily - Enter your email address below to receive a concise daily summary of the latest news and analysts' ratings for Global Net Lease Inc. and related stocks with our FREE daily email newsletter.