Peel Hunt Reaffirms "Hold" Rating for Cranswick plc (CWK)
Cranswick plc (LON:CWK)'s stock had its "hold" rating reaffirmed by investment analysts at Peel Hunt in a research note issued on Friday.
A number of other research firms also recently weighed in on CWK. Liberum Capital reissued a "hold" rating and set a GBX 2,500 ($30.94) target price on shares of Cranswick plc in a research report on Monday, September 26th. Numis Securities Ltd reaffirmed a "hold" rating and set a GBX 2,456 ($30.40) price objective on shares of Cranswick plc in a report on Tuesday, July 26th. Three research analysts have rated the stock with a hold rating and three have assigned a buy rating to the stock. The stock currently has an average rating of "Buy" and a consensus price target of GBX 2,371.20 ($29.35).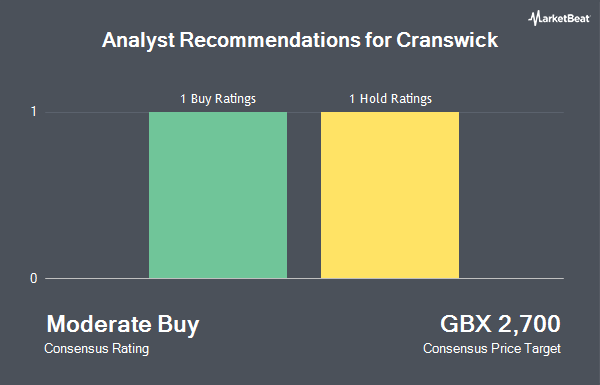 Cranswick plc (LON:CWK) opened at 2419.00 on Friday. Cranswick plc has a 52 week low of GBX 1,605.12 and a 52 week high of GBX 2,608.91. The firm's 50-day moving average price is GBX 2,340.89 and its 200-day moving average price is GBX 2,291.50. The company's market capitalization is GBX 1.21 billion.
Cranswick plc Company Profile
Cranswick plc is a supplier of food products. The Company operates through Foods segment, which is engaged in the manufacture and supply of food products to the United Kingdom grocery retailers, the food service sector and other food producers. The Company provides a range of pork, gourmet sausages, cooked meats, cooked poultry, charcuterie, hand-cured and air-dried bacon, gourmet pastry products and sandwiches through retail, food servicing and manufacturing channels.
Receive News & Stock Ratings for Cranswick plc Daily - Enter your email address below to receive a concise daily summary of the latest news and analysts' ratings for Cranswick plc and related stocks with our FREE daily email newsletter.