SThree Plc (STHR) Insider Alex Smith Acquires 80 Shares
SThree Plc (LON:STHR) insider Alex Smith bought 80 shares of the business's stock in a transaction that occurred on Wednesday, October 12th. The stock was acquired at an average cost of GBX 237 ($2.93) per share, with a total value of £189.60 ($234.65).
Shares of SThree Plc (LON:STHR) opened at 230.50 on Friday. The stock's 50 day moving average price is GBX 247.60 and its 200 day moving average price is GBX 283.37. The company's market capitalization is GBX 296.19 million. SThree Plc has a 52-week low of GBX 226.30 and a 52-week high of GBX 368.33.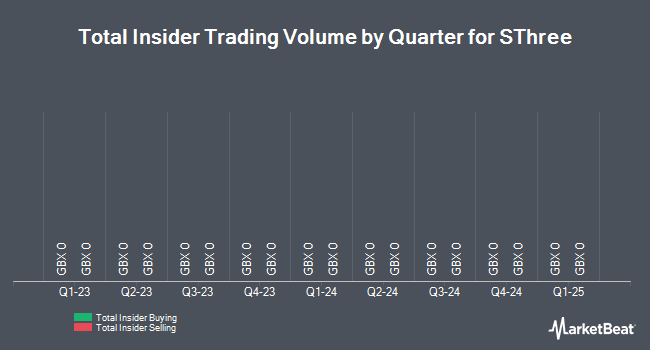 A number of analysts recently issued reports on STHR shares. Credit Suisse Group AG downgraded SThree Plc to an "underperform" rating and lowered their price target for the stock from GBX 400 ($4.95) to GBX 240 ($2.97) in a research report on Friday, July 1st. Numis Securities Ltd lowered their price target on SThree Plc from GBX 360 ($4.46) to GBX 280 ($3.47) and set a "hold" rating for the company in a research report on Wednesday, July 6th. Finally, Liberum Capital restated a "buy" rating and issued a GBX 340 ($4.21) price target on shares of SThree Plc in a research report on Friday, September 23rd. One analyst has rated the stock with a sell rating, two have assigned a hold rating and four have issued a buy rating to the company's stock. SThree Plc presently has a consensus rating of "Hold" and a consensus target price of GBX 357.86 ($4.43).
SThree Plc Company Profile
SThree plc is a United Kingdom-based company engaged in specialist staffing business. The Company is engaged in providing permanent and contract specialist services. Its segments include United Kingdom & Ireland, Continental Europe, Americas, and Asia Pacific & Middle East. It provides services to Information and communication technology (ICT), banking and finance, energy, engineering and life sciences, other sectors.
Receive News & Stock Ratings for SThree Plc Daily - Enter your email address below to receive a concise daily summary of the latest news and analysts' ratings for SThree Plc and related stocks with our FREE daily email newsletter.