Taylor Devices Inc. (TAYD) Announces Quarterly Earnings Results
Taylor Devices Inc. (NASDAQ:TAYD) released its quarterly earnings results on Friday. The company reported $0.06 earnings per share for the quarter. The company earned $5.76 million during the quarter, compared to the consensus estimate of $9.47 million. Taylor Devices had a return on equity of 14.85% and a net margin of 11.80%.
Taylor Devices (NASDAQ:TAYD) traded down 19.18% during trading on Friday, reaching $15.97. The company's stock had a trading volume of 48,189 shares. The firm has a market capitalization of $54.67 million, a P/E ratio of 13.20 and a beta of 1.05. Taylor Devices has a 52 week low of $12.72 and a 52 week high of $20.45. The firm has a 50-day moving average price of $19.42 and a 200-day moving average price of $17.88.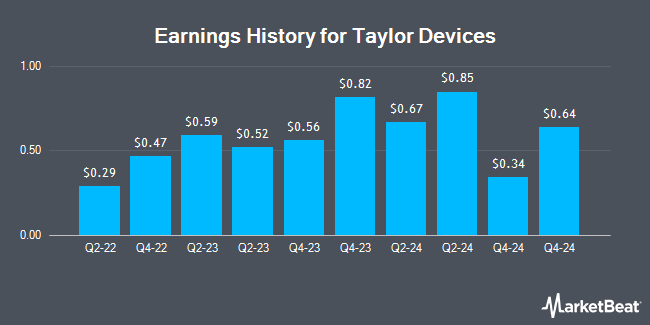 In other news, Director Randall L. Clark sold 1,339 shares of the business's stock in a transaction that occurred on Wednesday, August 31st. The stock was sold at an average price of $18.75, for a total transaction of $25,106.25. Following the completion of the transaction, the director now directly owns 7,265 shares in the company, valued at $136,218.75. The sale was disclosed in a legal filing with the SEC, which is accessible through this link. Insiders own 13.00% of the company's stock.
About Taylor Devices
Taylor Devices, Inc is engaged in the design, development, manufacture and marketing of shock absorption, rate control and energy storage devices for use in various types of machinery, equipment and structures. The Company manufactures and sells a single group of similar products that have a range of applications for customers, which include Seismic Dampers, Fluidicshoks, Crane and Industrial Buffers, Self-Adjusting Shock Absorbers, Liquid Die Springs and Vibration Dampers.
Receive News & Stock Ratings for Taylor Devices Inc. Daily - Enter your email address below to receive a concise daily summary of the latest news and analysts' ratings for Taylor Devices Inc. and related stocks with our FREE daily email newsletter.