Issuer Direct Corp (ISDR) to Issue Quarterly Dividend of $0.05 on November 11th
Issuer Direct Corp (NYSE:ISDR) declared a quarterly dividend on Thursday, October 13th. Shareholders of record on Monday, October 24th will be paid a dividend of 0.05 per share on Friday, November 11th. This represents a $0.20 dividend on an annualized basis and a yield of 2.69%. The ex-dividend date is Thursday, October 20th.
Issuer Direct Corp (NYSE:ISDR) opened at 7.422 on Friday. The firm's 50-day moving average is $7.26 and its 200-day moving average is $6.52. The firm has a market cap of $21.12 million and a PE ratio of 30.797. Issuer Direct Corp has a 12 month low of $4.88 and a 12 month high of $8.25.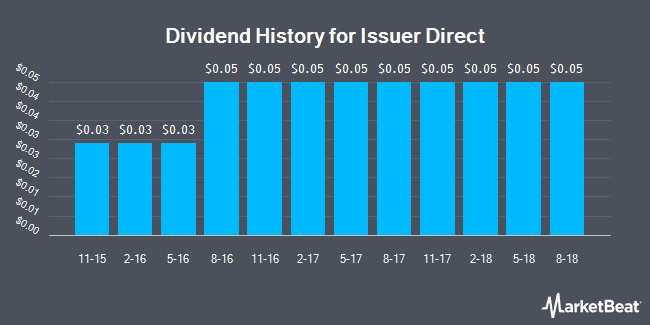 Issuer Direct Corp Company Profile
Issuer Direct Corporation is a provider of disclosure management solutions and cloud-based compliance technologies. The Company reports its product and services revenues in three revenue streams: Disclosure management, Shareholder communications, and Platforms and technology. The Company's technology platform, the Disclosure Management System (DMS), is a secure cloud based workflow compliance and communications system for corporate issuers, funds and compliance professionals.
Receive News & Stock Ratings for Issuer Direct Corp Daily - Enter your email address below to receive a concise daily summary of the latest news and analysts' ratings for Issuer Direct Corp and related stocks with our FREE daily email newsletter.