National Bank Financial Research Analysts Lower Earnings Estimates for Kinross Gold Co. (K)
Kinross Gold Co. (TSE:K) – Equities research analysts at National Bank Financial dropped their Q3 2016 earnings per share estimates for shares of Kinross Gold in a research note issued on Wednesday. National Bank Financial analyst S. Parsons now anticipates that the firm will post earnings of $0.00 per share for the quarter, down from their prior forecast of $0.04.
A number of other brokerages have also recently weighed in on K. Canaccord Genuity lifted their price target on Kinross Gold from C$7.75 to C$9.75 in a research note on Tuesday, July 12th. TD Securities reaffirmed a "buy" rating and set a C$7.50 target price on shares of Kinross Gold in a research note on Monday, July 25th. Finally, Royal Bank Of Canada reaffirmed an "outperform" rating on shares of Kinross Gold in a research note on Thursday, June 30th. One analyst has rated the stock with a hold rating and three have assigned a buy rating to the company's stock. The company presently has an average rating of "Buy" and an average target price of C$7.60.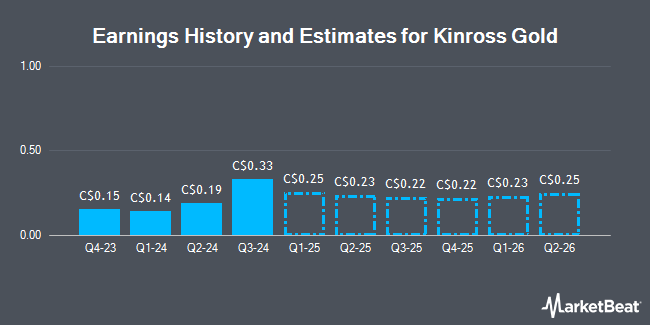 Kinross Gold (TSE:K) opened at 4.74 on Friday. The company has a 50-day moving average of $5.37 and a 200 day moving average of $6.08. The stock's market cap is $5.90 billion. Kinross Gold has a 12-month low of $1.91 and a 12-month high of $7.56.
Kinross Gold Company Profile
Kinross Gold Corporation is gold mining company. The Company is engaged in gold mining and related activities, including exploration and acquisition of gold-bearing properties, the extraction and processing of gold-containing ore, and reclamation of gold mining properties. Its segments include Fort Knox, Round Mountain, Kettle River-Buckhorn, Kupol, Paracatu, Maricunga, Tasiast and Chirano.
Receive News & Stock Ratings for Kinross Gold Co. Daily - Enter your email address below to receive a concise daily summary of the latest news and analysts' ratings for Kinross Gold Co. and related stocks with our FREE daily email newsletter.