Fidessa Group plc (FDSA) Receives Underweight Rating from Barclays PLC
Barclays PLC reiterated their underweight rating on shares of Fidessa Group plc (LON:FDSA) in a report published on Monday morning. They currently have a GBX 1,860 ($22.67) target price on the stock.
Other analysts have also recently issued research reports about the company. FinnCap restated a sell rating and set a GBX 1,700 ($20.72) price objective on shares of Fidessa Group plc in a research note on Monday, August 15th. Numis Securities Ltd cut Fidessa Group plc to an add rating and upped their price objective for the company from GBX 2,800 ($34.13) to GBX 2,870 ($34.98) in a research note on Monday, August 1st. Finally, Panmure Gordon upped their price objective on Fidessa Group plc from GBX 1,758 ($21.43) to GBX 2,132 ($25.98) and gave the company a hold rating in a research note on Monday, August 1st. Two investment analysts have rated the stock with a sell rating, six have assigned a hold rating and one has issued a buy rating to the stock. Fidessa Group plc currently has an average rating of Hold and a consensus target price of GBX 2,129.11 ($25.95).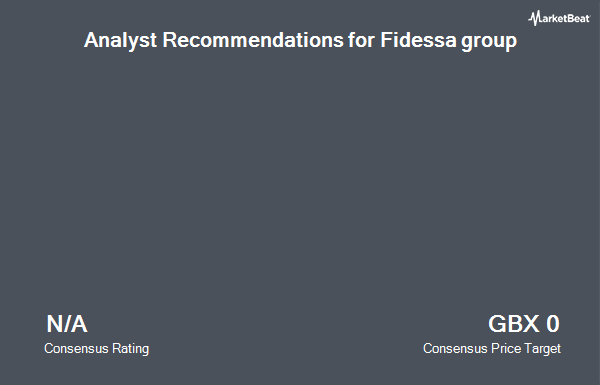 Shares of Fidessa Group plc (LON:FDSA) opened at 2405.00 on Monday. Fidessa Group plc has a 1-year low of GBX 1,729.00 and a 1-year high of GBX 2,656.00. The stock's market capitalization is GBX 917.68 million. The company has a 50 day moving average price of GBX 2,456.77 and a 200-day moving average price of GBX 2,381.39.
Fidessa Group plc Company Profile
Fidessa group plc is a United Kingdom-based holding company. The Company provides trading, investment and information solutions for the financial community. The Company operates in two segments: Sell-side and Buy-side. The Sell-side segment provides solutions and tools to support the trading of cash equities and derivatives across the world.
Receive News & Stock Ratings for Fidessa Group plc Daily - Enter your email address below to receive a concise daily summary of the latest news and analysts' ratings for Fidessa Group plc and related stocks with our FREE daily email newsletter.