Pearson plc (PSON) Stock Rating Reaffirmed by Numis Securities Ltd
Pearson plc (LON:PSON)'s stock had its "sell" rating restated by stock analysts at Numis Securities Ltd in a research report issued to clients and investors on Monday. They presently have a GBX 710 ($8.65) price objective on the stock. Numis Securities Ltd's target price indicates a potential downside of 4.70% from the company's current price.
A number of other equities research analysts also recently weighed in on PSON. Macquarie reissued an "outperform" rating and set a GBX 1,025 ($12.49) target price on shares of Pearson plc in a report on Monday, August 1st. JPMorgan Chase & Co. lifted their target price on Pearson plc from GBX 935 ($11.40) to GBX 940 ($11.46) and gave the stock a "neutral" rating in a report on Friday, September 2nd. Barclays PLC reissued an "equal weight" rating and set a GBX 920 ($11.21) target price on shares of Pearson plc in a report on Monday, August 1st. Societe Generale downgraded Pearson plc to a "hold" rating and lifted their target price for the stock from GBX 965 ($11.76) to GBX 1,030 ($12.55) in a report on Friday, July 8th. Finally, Deutsche Bank AG reissued a "sell" rating and set a GBX 770 ($9.38) target price on shares of Pearson plc in a report on Tuesday, September 13th. Seven investment analysts have rated the stock with a sell rating, seven have issued a hold rating and ten have assigned a buy rating to the company. The stock presently has a consensus rating of "Hold" and a consensus target price of GBX 905.05 ($11.03).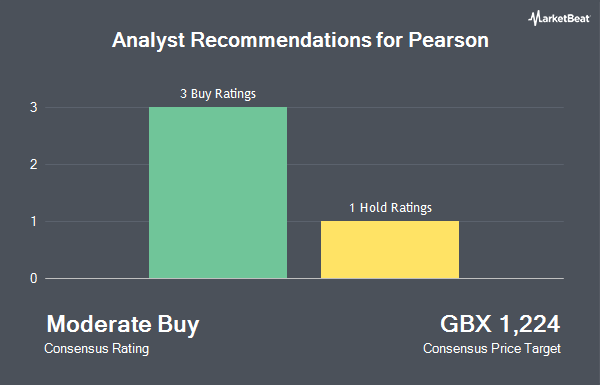 Shares of Pearson plc (LON:PSON) opened at 743.00 on Monday. The company's market cap is GBX 6.06 billion. The firm's 50-day moving average is GBX 800.66 and its 200-day moving average is GBX 850.57. Pearson plc has a one year low of GBX 644.50 and a one year high of GBX 1,193.00.
In other Pearson plc news, insider Melinda Wolfe sold 25,746 shares of the business's stock in a transaction that occurred on Monday, October 3rd. The stock was sold at an average price of GBX 759 ($9.25), for a total value of £195,412.14 ($238,162.27). Also, insider Vivienne Cox purchased 289 shares of the company's stock in a transaction on Friday, September 30th. The stock was acquired at an average cost of GBX 737 ($8.98) per share, for a total transaction of £2,129.93 ($2,595.89).
About Pearson plc
Pearson plc (Pearson) is an international education and media company. The Company has operations in the education, business information and consumer publishing markets. The Company operates through three segments: North America, Core and Growth. The North American business serves educators and students in the United States and Canada from early education through elementary, middle and high schools and into higher education with a range of products and services, such as courseware, assessments and services.
Receive News & Stock Ratings for Pearson plc Daily - Enter your email address below to receive a concise daily summary of the latest news and analysts' ratings for Pearson plc and related stocks with our FREE daily email newsletter.