Pendragon PLC (PDG) Price Target Lowered to GBX 46 at Berenberg Bank
Pendragon PLC (LON:PDG) had its price target decreased by investment analysts at Berenberg Bank from GBX 52 ($0.63) to GBX 46 ($0.56) in a report released on Wednesday. The brokerage presently has a "buy" rating on the stock. Berenberg Bank's price objective would suggest a potential upside of 64.29% from the company's previous close.
A number of other research firms also recently issued reports on PDG. Liberum Capital restated a "buy" rating and set a GBX 50 ($0.61) target price on shares of Pendragon PLC in a research report on Tuesday, August 2nd. Numis Securities Ltd reiterated an "add" rating and issued a GBX 35 ($0.43) price objective on shares of Pendragon PLC in a research report on Wednesday, August 3rd. One research analyst has rated the stock with a hold rating and four have assigned a buy rating to the company's stock. The stock presently has an average rating of "Buy" and a consensus price target of GBX 48.20 ($0.59).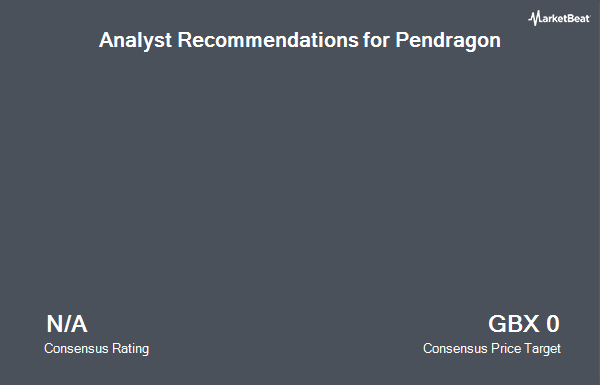 Pendragon PLC (LON:PDG) opened at 28.00 on Wednesday. Pendragon PLC has a 52-week low of GBX 25.10 and a 52-week high of GBX 49.00. The stock's market cap is GBX 405.92 million. The company has a 50-day moving average price of GBX 30.84 and a 200 day moving average price of GBX 33.73.
The company also recently disclosed a dividend, which will be paid on Tuesday, October 25th. Shareholders of record on Thursday, September 22nd will be given a GBX 0.70 ($0.01) dividend. The ex-dividend date of this dividend is Thursday, September 22nd. This represents a dividend yield of 2.26%.
About Pendragon PLC
Receive News & Stock Ratings for Pendragon PLC Daily - Enter your email address below to receive a concise daily summary of the latest news and analysts' ratings for Pendragon PLC and related stocks with our FREE daily email newsletter.