South32 Ltd (S32) Rating Reiterated by Macquarie
South32 Ltd (LON:S32)'s stock had its "outperform" rating reissued by analysts at Macquarie in a report released on Monday. They presently have a GBX 150 ($1.83) price objective on the stock. Macquarie's price objective indicates a potential downside of 4.15% from the stock's previous close.
Other equities analysts have also issued research reports about the company. Deutsche Bank AG restated a "buy" rating and set a GBX 112 ($1.37) price objective on shares of South32 in a research note on Thursday, August 25th. Goldman Sachs Group Inc. reaffirmed a "conviction-buy" rating on shares of South32 in a report on Monday, July 11th. Barclays PLC reaffirmed an "equal weight" rating and issued a GBX 85 ($1.04) target price on shares of South32 in a report on Thursday, July 21st. Finally, Jefferies Group raised their target price on South32 from GBX 80 ($0.98) to GBX 110 ($1.34) and gave the company a "hold" rating in a report on Tuesday, August 23rd. Two equities research analysts have rated the stock with a sell rating, four have assigned a hold rating, three have issued a buy rating and one has given a strong buy rating to the stock. The stock currently has an average rating of "Hold" and an average price target of GBX 112 ($1.37).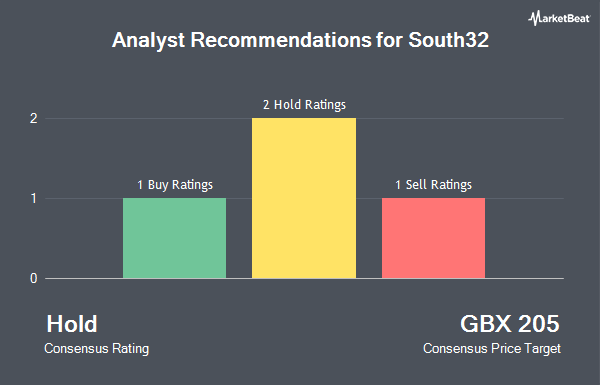 Shares of South32 (LON:S32) opened at 161.25 on Monday. The company's market cap is GBX 8.58 billion. South32 has a 52-week low of GBX 41.25 and a 52-week high of GBX 170.25. The stock's 50 day moving average price is GBX 135.80 and its 200-day moving average price is GBX 103.71.
South32 Company Profile
Receive News & Stock Ratings for South32 Ltd Daily - Enter your email address below to receive a concise daily summary of the latest news and analysts' ratings for South32 Ltd and related stocks with our FREE daily email newsletter.