Telecom plus PLC (TEP) Price Target Raised to GBX 1,225
Telecom plus PLC (LON:TEP) had its price target increased by Peel Hunt from GBX 1,150 ($14.02) to GBX 1,225 ($14.93) in a research note issued on Wednesday. The brokerage presently has a "buy" rating on the stock. Peel Hunt's price objective indicates a potential upside of 4.34% from the stock's previous close.
A number of other research analysts have also weighed in on the company. FinnCap restated a "buy" rating and issued a GBX 1,230 ($14.99) target price on shares of Telecom plus PLC in a report on Monday, August 15th. JPMorgan Chase & Co. reiterated an "overweight" rating and set a GBX 1,260 ($15.36) price target on shares of Telecom plus PLC in a report on Friday, July 8th. Finally, Royal Bank Of Canada upgraded Telecom plus PLC to a "sector perform" rating and lifted their price target for the stock from GBX 850 ($10.36) to GBX 1,050 ($12.80) in a report on Friday, July 1st. Two research analysts have rated the stock with a hold rating and three have given a buy rating to the stock. The stock presently has an average rating of "Buy" and a consensus target price of GBX 1,153 ($14.05).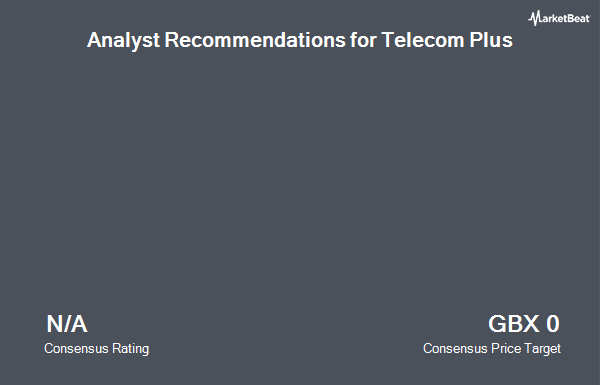 Shares of Telecom plus PLC (LON:TEP) opened at 1174.00 on Wednesday. The stock's 50 day moving average price is GBX 1,100.03 and its 200-day moving average price is GBX 1,019.24. The company's market capitalization is GBX 939.24 million. Telecom plus PLC has a 52-week low of GBX 799.89 and a 52-week high of GBX 1,175.00.
Telecom plus PLC Company Profile
Telecom Plus PLC is engaged in providing landline telephony (calls and line rental), broadband, mobile, gas, electricity and CashBack card services. The Company's segments include Customer Acquisition and Customer Management. The Customer Acquisition segment includes the sale of marketing materials, and sale of equipment, such as mobile phone handsets and wireless Internet routers.
Receive News & Stock Ratings for Telecom plus PLC Daily - Enter your email address below to receive a concise daily summary of the latest news and analysts' ratings for Telecom plus PLC and related stocks with our FREE daily email newsletter.