Chembio Diagnostics Inc. (CEMI) Announces Quarterly Earnings Results, Misses Estimates By $0.02 EPS
Chembio Diagnostics Inc. (NASDAQ:CEMI) released its earnings results on Thursday. The company reported ($0.19) earnings per share for the quarter, missing the Thomson Reuters' consensus estimate of ($0.17) by $0.02. The company had revenue of $3.75 million for the quarter, compared to analysts' expectations of $3.76 million. Chembio Diagnostics had a negative net margin of 45.99% and a negative return on equity of 24.17%.
Chembio Diagnostics (NASDAQ:CEMI) opened at 6.65 on Thursday. The stock's market capitalization is $79.71 million. Chembio Diagnostics has a 52-week low of $4.03 and a 52-week high of $9.40. The company's 50-day moving average price is $7.09 and its 200 day moving average price is $7.52.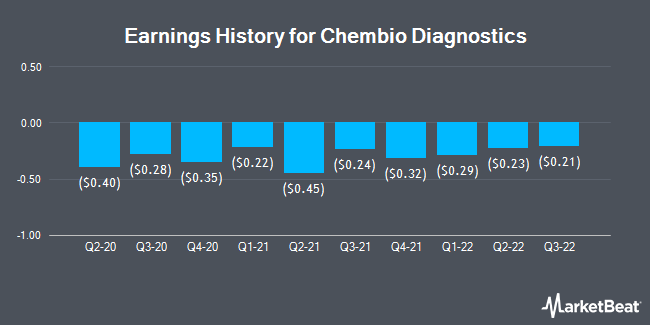 Separately, Benchmark Co. lifted their target price on Chembio Diagnostics from $9.00 to $10.00 and gave the company a "speculative buy" rating in a research report on Thursday, August 11th.
About Chembio Diagnostics
Chembio Diagnostics, Inc (Chembio), and its subsidiary, Chembio Diagnostic Systems, Inc, develop, manufacture, market and license rapid point-of-care diagnostic tests (POCTs) that detect infectious diseases. The Company's products available are rapid tests for the detection of human immunodeficiency virus (HIV) 1/2 antibodies, and a multiplex rapid test for the detection of HIV and Syphilis antibodies.
Receive News & Stock Ratings for Chembio Diagnostics Inc. Daily - Enter your email address below to receive a concise daily summary of the latest news and analysts' ratings for Chembio Diagnostics Inc. and related stocks with our FREE daily email newsletter.