Insider Buying: TheStreet Inc. (TST) Director Purchases $24,750.00 in Stock
TheStreet Inc. (NASDAQ:TST) Director Lawrence S. Kramer purchased 25,000 shares of the company's stock in a transaction that occurred on Thursday, November 3rd. The shares were purchased at an average price of $0.99 per share, with a total value of $24,750.00. Following the completion of the transaction, the director now directly owns 8,652 shares of the company's stock, valued at approximately $8,565.48. The purchase was disclosed in a document filed with the Securities & Exchange Commission, which can be accessed through the SEC website.
Shares of TheStreet Inc. (NASDAQ:TST) opened at 0.92 on Thursday. The stock's market capitalization is $32.43 million. TheStreet Inc. has a 12 month low of $0.82 and a 12 month high of $1.75. The company's 50 day moving average price is $1.03 and its 200 day moving average price is $1.13.
TheStreet (NASDAQ:TST) last posted its quarterly earnings data on Tuesday, November 1st. The company reported ($0.03) earnings per share for the quarter, topping analysts' consensus estimates of ($0.04) by $0.01. TheStreet had a negative return on equity of 8.41% and a negative net margin of 9.49%. The company earned $15.20 million during the quarter, compared to analysts' expectations of $16.07 million. During the same period last year, the firm earned $0.03 EPS. Equities analysts anticipate that TheStreet Inc. will post ($0.21) earnings per share for the current fiscal year.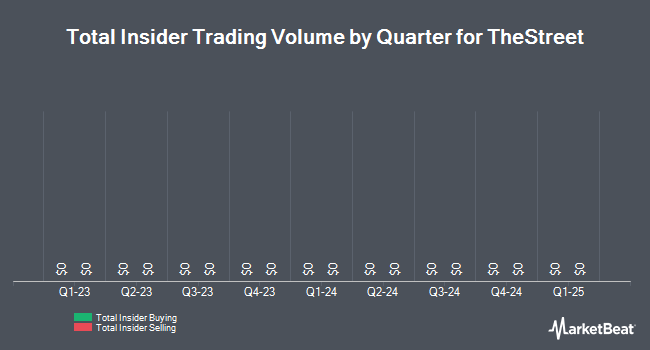 TST has been the subject of several research reports. Zacks Investment Research cut TheStreet from a "buy" rating to a "hold" rating in a research report on Wednesday, July 13th. B. Riley reiterated a "buy" rating and set a $2.25 price target on shares of TheStreet in a research report on Friday, July 29th.
A hedge fund recently raised its stake in TheStreet stock. Cannell Capital LLC raised its stake in shares of TheStreet Inc. (NASDAQ:TST) by 10.5% during the second quarter, according to its most recent disclosure with the SEC. The institutional investor owned 3,220,366 shares of the company's stock after buying an additional 305,012 shares during the period. TheStreet accounts for approximately 1.5% of Cannell Capital LLC's portfolio, making the stock its 26th largest position. Cannell Capital LLC owned approximately 9.14% of TheStreet worth $3,639,000 as of its most recent SEC filing. 58.35% of the stock is owned by institutional investors and hedge funds.
About TheStreet
TheStreet, Inc (TheStreet) is a digital financial media company focused on the financial, and mergers and acquisitions environment. The Company's collection of digital services provides users, subscribers and advertisers with a range of content and tools through a range of online, social media, tablet and mobile channels.
Receive News & Stock Ratings for TheStreet Inc. Daily - Enter your email address below to receive a concise daily summary of the latest news and analysts' ratings for TheStreet Inc. and related stocks with our FREE daily email newsletter.