James B. Hawkins Acquires 10,000 Shares of Eldorado Resorts Inc. (ERI) Stock
Eldorado Resorts Inc. (NASDAQ:ERI) Director James B. Hawkins purchased 10,000 shares of Eldorado Resorts stock in a transaction that occurred on Tuesday, November 8th. The stock was acquired at an average cost of $10.99 per share, with a total value of $109,900.00. Following the acquisition, the director now directly owns 65,000 shares of the company's stock, valued at approximately $714,350. The purchase was disclosed in a document filed with the SEC, which is accessible through this link.
Shares of Eldorado Resorts Inc. (NASDAQ:ERI) opened at 11.65 on Thursday. The firm's 50-day moving average price is $13.06 and its 200 day moving average price is $13.95. The firm has a market cap of $548.42 million, a PE ratio of 4.26 and a beta of 0.99. Eldorado Resorts Inc. has a 52 week low of $8.47 and a 52 week high of $15.60.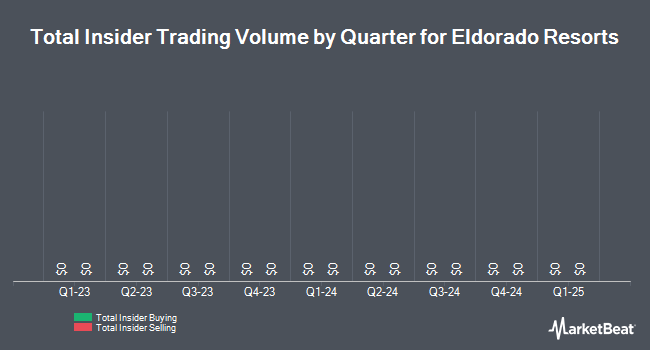 A number of research analysts recently commented on ERI shares. Imperial Capital increased their price target on Eldorado Resorts from $18.00 to $19.00 and gave the company an "outperform" rating in a report on Monday, August 15th. SunTrust Banks Inc. assumed coverage on Eldorado Resorts in a report on Friday, August 19th. They issued a "buy" rating and a $17.00 price target for the company. Finally, Zacks Investment Research cut Eldorado Resorts from a "hold" rating to a "sell" rating in a research note on Monday.
Eldorado Resorts Company Profile
Receive News & Stock Ratings for Eldorado Resorts Inc. Daily - Enter your email address below to receive a concise daily summary of the latest news and analysts' ratings for Eldorado Resorts Inc. and related stocks with our FREE daily email newsletter.