AVEVA Group plc (AVV) Stock Rating Lowered by Beaufort Securities
AVEVA Group plc (LON:AVV) was downgraded by equities research analysts at Beaufort Securities to a "hold" rating in a research report issued to clients and investors on Wednesday.
AVV has been the topic of several other reports. JPMorgan Chase & Co. upped their price target on shares of AVEVA Group plc from GBX 1,550 ($19.20) to GBX 1,750 ($21.68) and gave the company a "neutral" rating in a report on Tuesday, July 12th. Numis Securities Ltd downgraded shares of AVEVA Group plc to an "add" rating and set a GBX 2,050 ($25.39) target price on the stock. in a research note on Thursday, November 3rd. Finally, Barclays PLC restated an "equal weight" rating and issued a GBX 1,450 ($17.96) target price on shares of AVEVA Group plc in a research note on Monday, October 17th. Two research analysts have rated the stock with a sell rating, seven have issued a hold rating and three have issued a buy rating to the stock. The stock has a consensus rating of "Hold" and a consensus target price of GBX 1,645 ($20.38).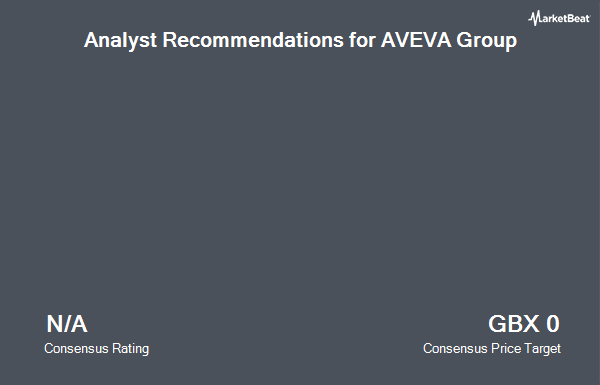 AVEVA Group plc (LON:AVV) opened at 1691.00 on Wednesday. The stock's 50 day moving average is GBX 1,931.43 and its 200 day moving average is GBX 1,814.58. The stock's market capitalization is GBX 1.08 billion. AVEVA Group plc has a 12-month low of GBX 1,221.00 and a 12-month high of GBX 2,350.00.
The company also recently announced a dividend, which will be paid on Friday, February 3rd. Investors of record on Thursday, January 5th will be given a dividend of GBX 13 ($0.16) per share. The ex-dividend date of this dividend is Thursday, January 5th. This represents a yield of 0.73%.
About AVEVA Group plc
AVEVA Group plc is a holding company. The Company provides engineering, design and information management software. It operates in three segments: Asia Pacific, Americas, and Europe, Middle East and Africa (EMEA). Its engineer products include AVEVA Diagrams, AVEVA Electrical, AVEVA Engineering and AVEVA Instrumentation.
Receive News & Stock Ratings for AVEVA Group plc Daily - Enter your email address below to receive a concise daily summary of the latest news and analysts' ratings for AVEVA Group plc and related stocks with our FREE daily email newsletter.