Cormark Weighs in on goeasy Ltd's FY2016 Earnings (GSY)
goeasy Ltd (TSE:GSY) – Investment analysts at Cormark raised their FY2016 earnings estimates for goeasy in a research note issued on Monday. Cormark analyst J. Fenwick now anticipates that the firm will post earnings of $2.41 per share for the year, up from their previous estimate of $2.40. Cormark also issued estimates for goeasy's Q1 2017 earnings at $0.75 EPS, Q2 2017 earnings at $0.82 EPS and Q3 2017 earnings at $0.83 EPS.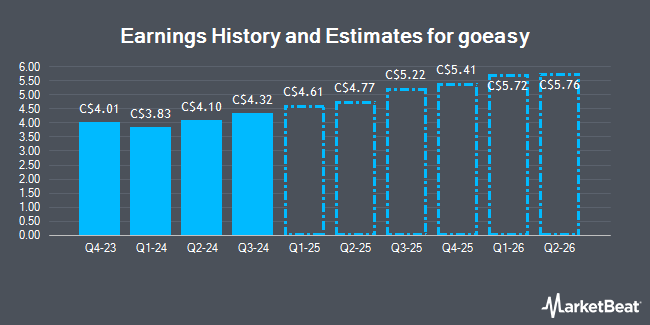 goeasy (TSE:GSY) opened at 22.86 on Wednesday. goeasy has a 12-month low of $15.34 and a 12-month high of $27.00. The stock has a market capitalization of $306.19 million and a price-to-earnings ratio of 10.16. The company has a 50 day moving average of $24.70 and a 200-day moving average of $20.48.
The company also recently announced a quarterly dividend, which was paid on Friday, October 14th. Investors of record on Friday, October 14th were given a $0.125 dividend. The ex-dividend date of this dividend was Wednesday, September 28th. This represents a $0.50 dividend on an annualized basis and a yield of 2.18%.
goeasy Company Profile
goeasy Ltd., formerly easyhome Ltd., is a Canada-based service provider of goods and alternative financial services. The Company serves customers through two divisions: easyhome and easyfinancial. Its segments are easyhome and easyfinancial. easyhome offers customers brand-name household furniture, appliances and electronics under weekly or monthly lease agreements.
Receive News & Stock Ratings for goeasy Ltd Daily - Enter your email address below to receive a concise daily summary of the latest news and analysts' ratings for goeasy Ltd and related stocks with our FREE daily email newsletter.