ImmuCell Corp. (ICCC) Releases Quarterly Earnings Results
ImmuCell Corp. (NASDAQ:ICCC) posted its quarterly earnings results on Thursday. The company reported $0.01 earnings per share (EPS) for the quarter. ImmuCell Corp. had a net margin of 10.29% and a return on equity of 8.09%. The company had revenue of $1.97 million for the quarter, compared to analyst estimates of $1.61 million.
ImmuCell Corp. (NASDAQ:ICCC) opened at 5.20 on Friday. ImmuCell Corp. has a 52 week low of $4.99 and a 52 week high of $8.29. The company's 50-day moving average is $6.72 and its 200 day moving average is $6.93. The stock has a market cap of $21.73 million, a PE ratio of 17.45 and a beta of 0.81.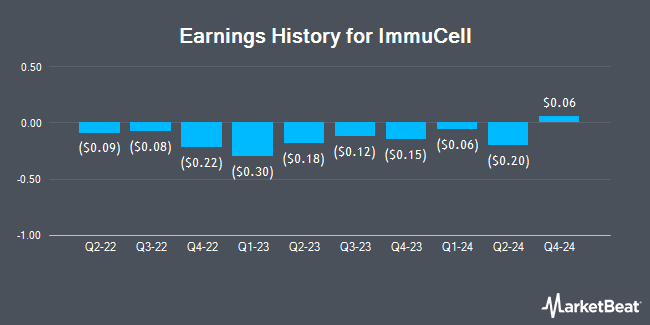 About ImmuCell Corp.
ImmuCell Corporation is an animal health company. The Company operates in the development, acquisition, manufacture and sale of products that improve the health and productivity of cows for the dairy and beef industries segment. The Company has developed products that provide immediate immunity to newborn dairy and beef cattle, and is developing product line extensions of its existing products that address mastitis.
Receive News & Stock Ratings for ImmuCell Corp. Daily - Enter your email address below to receive a concise daily summary of the latest news and analysts' ratings for ImmuCell Corp. and related stocks with our FREE daily email newsletter.