Q4 2016 Earnings Forecast for Methanex Co. (MX) Issued By Raymond James Financial
Methanex Co. (TSE:MX) – Investment analysts at Raymond James Financial boosted their Q4 2016 EPS estimates for Methanex in a report issued on Thursday. Raymond James Financial analyst S. Hansen now expects that the firm will earn $0.21 per share for the quarter, up from their prior forecast of $0.17. Raymond James Financial also issued estimates for Methanex's Q1 2017 earnings at $0.58 EPS, FY2017 earnings at $2.22 EPS and FY2018 earnings at $3.31 EPS.
A number of other equities analysts have also commented on the stock. Royal Bank Of Canada reaffirmed a "sector perform" rating and issued a C$54.50 price objective (up previously from C$46.50) on shares of Methanex in a research note on Thursday, October 27th. TD Securities lowered shares of Methanex from a "buy" rating to a "hold" rating and raised their price objective for the stock from C$39.00 to C$40.00 in a research note on Friday, October 28th. Finally, Scotiabank reaffirmed an "outperform" rating and issued a C$35.00 price objective on shares of Methanex in a research note on Tuesday, August 30th.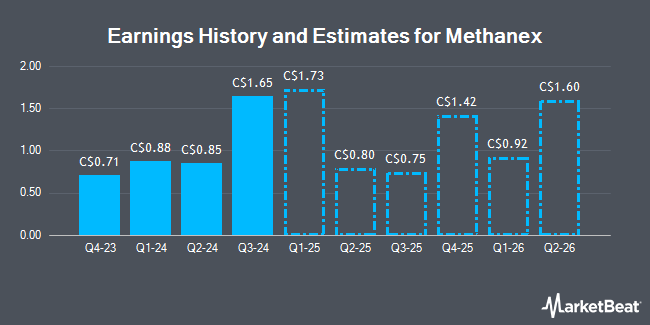 Shares of Methanex (TSE:MX) opened at 52.08 on Friday. The company's 50-day moving average is $48.07 and its 200-day moving average is $41.48. The stock's market capitalization is $4.68 billion. Methanex has a 12 month low of $31.63 and a 12 month high of $55.43.
In related news, insider Wendy Bach bought 4,619 shares of the business's stock in a transaction on Tuesday, November 8th. The stock was bought at an average price of C$48.08 per share, for a total transaction of C$222,081.52.
About Methanex
Methanex Corporation is a producer and supplier of methanol to a range of international markets. The Company operates production sites in Canada, Chile, Egypt, New Zealand, the United States, and Trinidad and Tobago. Its global operations are supported by a global supply chain of terminals, storage facilities and a fleet of methanol ocean tankers.
Receive News & Stock Ratings for Methanex Co. Daily - Enter your email address below to receive a concise daily summary of the latest news and analysts' ratings for Methanex Co. and related stocks with our FREE daily email newsletter.