Arcadia Biosciences Inc. (RKDA) Announces Earnings Results
Arcadia Biosciences Inc. (NASDAQ:RKDA) announced its quarterly earnings data on Thursday. The company reported ($0.09) EPS for the quarter, missing the Zacks' consensus estimate of ($0.07) by $0.02. Arcadia Biosciences had a negative return on equity of 49.20% and a negative net margin of 444.99%. The business had revenue of $1.08 million for the quarter, compared to analyst estimates of $2.10 million.
Shares of Arcadia Biosciences (NASDAQ:RKDA) opened at 1.2534 on Monday. The firm's 50-day moving average price is $1.75 and its 200-day moving average price is $2.00. The firm's market capitalization is $55.68 million. Arcadia Biosciences has a 12 month low of $1.10 and a 12 month high of $4.82.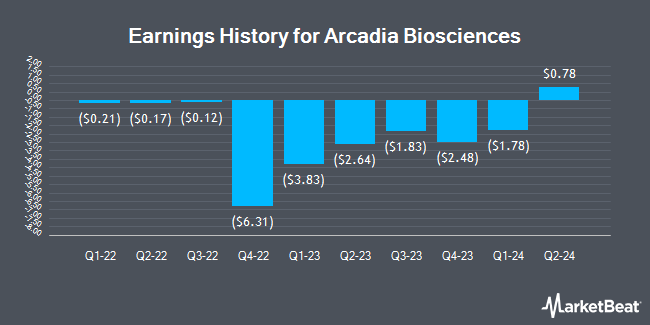 Arcadia Biosciences Company Profile
Arcadia Biosciences, Inc is an agricultural biotechnology trait company. The Company develops a portfolio of yield and traits addressing multiple crops that supply the global food and feed markets. It has a pipeline of products in development incorporating its traits, including products that are in advanced stages of development or on the market.
Receive News & Stock Ratings for Arcadia Biosciences Inc. Daily - Enter your email address below to receive a concise daily summary of the latest news and analysts' ratings for Arcadia Biosciences Inc. and related stocks with our FREE daily email newsletter.