AVEVA Group plc (AVV) PT Raised to GBX 1,900
AVEVA Group plc (LON:AVV) had its price objective hoisted by Credit Suisse Group AG from GBX 1,800 ($22.30) to GBX 1,900 ($23.54) in a research report issued to clients and investors on Thursday. The brokerage currently has an "outperform" rating on the stock. Credit Suisse Group AG's target price would indicate a potential upside of 12.82% from the company's previous close.
AVV has been the topic of a number of other reports. Barclays PLC reissued an "equal weight" rating and set a GBX 1,450 ($17.96) target price on shares of AVEVA Group plc in a report on Monday, October 17th. Numis Securities Ltd lowered AVEVA Group plc to an "add" rating and set a GBX 2,050 ($25.39) target price on the stock. in a report on Thursday, November 3rd. Finally, Beaufort Securities lowered AVEVA Group plc to a "hold" rating in a report on Wednesday, November 9th. Two investment analysts have rated the stock with a sell rating, seven have assigned a hold rating and three have issued a buy rating to the stock. The stock presently has an average rating of "Hold" and an average price target of GBX 1,645 ($20.38).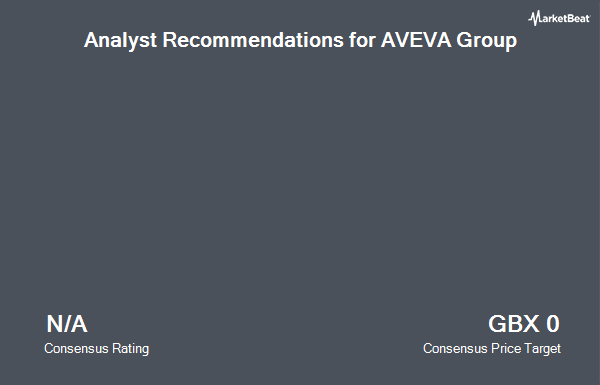 AVEVA Group plc (LON:AVV) opened at 1684.1444 on Thursday. AVEVA Group plc has a 1-year low of GBX 1,221.00 and a 1-year high of GBX 2,350.00. The firm's 50-day moving average price is GBX 1,922.95 and its 200 day moving average price is GBX 1,813.69. The firm's market capitalization is GBX 1.08 billion.
The business also recently announced a dividend, which will be paid on Friday, February 3rd. Stockholders of record on Thursday, January 5th will be given a dividend of GBX 13 ($0.16) per share. The ex-dividend date is Thursday, January 5th. This represents a dividend yield of 0.73%.
About AVEVA Group plc
AVEVA Group plc is a holding company. The Company provides engineering, design and information management software. It operates in three segments: Asia Pacific, Americas, and Europe, Middle East and Africa (EMEA). Its engineer products include AVEVA Diagrams, AVEVA Electrical, AVEVA Engineering and AVEVA Instrumentation.
Receive News & Stock Ratings for AVEVA Group plc Daily - Enter your email address below to receive a concise daily summary of the latest news and analysts' ratings for AVEVA Group plc and related stocks with our FREE daily email newsletter.