Leju Holdings Ltd. (LEJU) to Release Quarterly Earnings on Wednesday
Leju Holdings Ltd. (NYSE:LEJU) will be announcing its earnings results before the market opens on Wednesday, November 16th. Analysts expect the company to announce earnings of $0.17 per share for the quarter.
Leju Holdings (NYSE:LEJU) last announced its quarterly earnings results on Thursday, August 25th. The company reported $0.11 EPS for the quarter, beating the consensus estimate of $0.09 by $0.02. Leju Holdings had a net margin of 4.59% and a return on equity of 8.76%. The company had revenue of $158.30 million for the quarter, compared to analyst estimates of $172.75 million. During the same quarter last year, the business earned $0.12 earnings per share. Leju Holdings's revenue was up .3% compared to the same quarter last year. On average, analysts expect Leju Holdings to post $0.37 EPS for the current fiscal year and $0.45 EPS for the next fiscal year.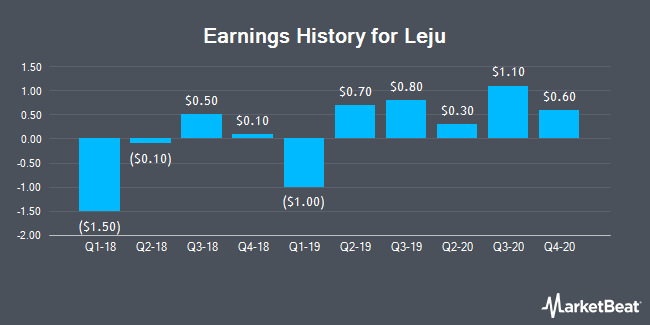 Shares of Leju Holdings Ltd. (NYSE:LEJU) opened at 4.28 on Monday. The firm has a market cap of $796.08 million, a price-to-earnings ratio of 21.29 and a beta of 3.26. Leju Holdings Ltd. has a 52 week low of $3.28 and a 52 week high of $6.26. The firm has a 50 day moving average of $4.41 and a 200 day moving average of $4.59.
Several research analysts recently commented on LEJU shares. Zacks Investment Research upgraded shares of Leju Holdings from a "sell" rating to a "hold" rating in a report on Tuesday, July 19th. JPMorgan Chase & Co. initiated coverage on shares of Leju Holdings in a report on Wednesday, August 31st. They set a "neutral" rating and a $4.60 price objective on the stock. Finally, Credit Agricole SA downgraded shares of Leju Holdings from an "underperform" rating to a "sell" rating and dropped their price objective for the stock from $5.50 to $4.60 in a report on Friday, August 26th. One analyst has rated the stock with a sell rating and four have given a hold rating to the stock. Leju Holdings currently has a consensus rating of "Hold" and an average price target of $5.54.
About Leju Holdings
Leju Holdings Limited is an online to offline (O2O), real estate services provider in China. The Company offers real estate e-commerce, online advertising and online listing services through its online platform, which consists of local Websites covering over 260 cities and various mobile applications.
Receive News & Stock Ratings for Leju Holdings Ltd. Daily - Enter your email address below to receive a concise daily summary of the latest news and analysts' ratings for Leju Holdings Ltd. and related stocks with our FREE daily email newsletter.