Vermillion Inc. (VRML) Posts Quarterly Earnings Results
Vermillion Inc. (NASDAQ:VRML) issued its quarterly earnings data on Thursday. The company reported ($0.07) earnings per share (EPS) for the quarter, missing the consensus estimate of ($0.06) by $0.01. Vermillion had a negative return on equity of 128.58% and a negative net margin of 778.21%.
Vermillion (NASDAQ:VRML) opened at 1.2431 on Monday. The firm's 50 day moving average price is $1.13 and its 200 day moving average price is $1.23. The stock's market cap is $64.92 million. Vermillion has a one year low of $0.76 and a one year high of $2.00.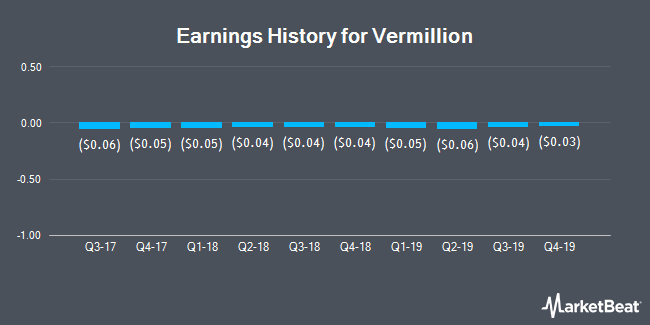 Vermillion Company Profile
Vermillion, Inc is a diagnostic service and bio-analytic solutions provider. The Company is engaged in the business of developing and commercializing diagnostic tests for gynecologic disease. It sells OVA1 risk of malignancy test for pelvic mass disease (OVA1). OVA1 is a blood test designed to, in addition to a physician's clinical assessment of a woman with a pelvic mass, identify women who are at risk of having a malignant ovarian tumor prior to planned surgery.
Receive News & Stock Ratings for Vermillion Inc. Daily - Enter your email address below to receive a concise daily summary of the latest news and analysts' ratings for Vermillion Inc. and related stocks with our FREE daily email newsletter.