Insider Buying: Bar Harbor Bankshares (BHB) Director Acquires $26,019.00 in Stock
Bar Harbor Bankshares (NYSE:BHB) Director Clyde H. Lewis acquired 700 shares of Bar Harbor Bankshares stock in a transaction that occurred on Wednesday, November 9th. The stock was acquired at an average cost of $37.17 per share, with a total value of $26,019.00. Following the completion of the purchase, the director now owns 12,253 shares in the company, valued at approximately $455,444.01. The transaction was disclosed in a legal filing with the Securities & Exchange Commission, which is accessible through this hyperlink.
Shares of Bar Harbor Bankshares (NYSE:BHB) opened at 40.99 on Tuesday. The stock has a market capitalization of $248.24 million and a P/E ratio of 15.77. Bar Harbor Bankshares has a 52 week low of $29.53 and a 52 week high of $41.29. The company has a 50-day moving average price of $36.90 and a 200 day moving average price of $35.61.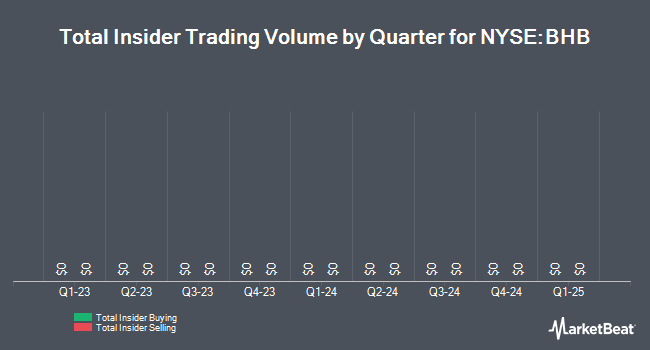 The company also recently announced a quarterly dividend, which will be paid on Thursday, December 15th. Stockholders of record on Monday, November 14th will be given a dividend of $0.28 per share. The ex-dividend date is Wednesday, November 9th. This represents a $1.12 dividend on an annualized basis and a dividend yield of 2.73%. This is an increase from Bar Harbor Bankshares's previous quarterly dividend of $0.28.
About Bar Harbor Bankshares
Bar Harbor Bankshares is a bank holding company. The Company's operating subsidiary, Bar Harbor Bank & Trust (the Bank), is a community bank, which offers a range of deposit, loan and related banking products, as well as brokerage services provided through a third-party brokerage arrangement. In addition, the Company offers trust and investment management services through its second tier subsidiary, Bar Harbor Trust Services (Trust Services), a Maine chartered non-depository trust company.
Receive News & Stock Ratings for Bar Harbor Bankshares Daily - Enter your email address below to receive a concise daily summary of the latest news and analysts' ratings for Bar Harbor Bankshares and related stocks with our FREE daily email newsletter.