Emile A. Battat Sells 2,093 Shares of Atrion Corp. (ATRI) Stock
Atrion Corp. (NASDAQ:ATRI) Chairman Emile A. Battat sold 2,093 shares of the firm's stock in a transaction that occurred on Monday, November 14th. The shares were sold at an average price of $452.87, for a total value of $947,856.91. Following the completion of the transaction, the chairman now directly owns 142,373 shares in the company, valued at $64,476,460.51. The sale was disclosed in a document filed with the SEC, which is accessible through this link.
Atrion Corp. (NASDAQ:ATRI) opened at 472.15 on Wednesday. The company has a market capitalization of $861.20 million, a P/E ratio of 31.20 and a beta of 0.81. The company has a 50 day moving average price of $433.89 and a 200-day moving average price of $431.91. Atrion Corp. has a 52 week low of $350.00 and a 52 week high of $490.45.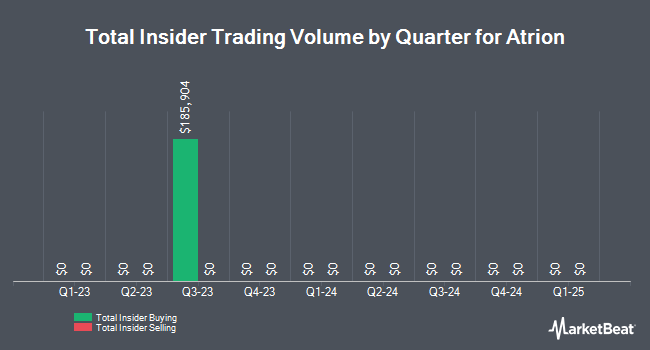 The firm also recently announced a quarterly dividend, which will be paid on Thursday, December 15th. Shareholders of record on Thursday, December 1st will be paid a $1.05 dividend. The ex-dividend date is Tuesday, November 29th. This represents a $4.20 dividend on an annualized basis and a yield of 0.89%. Atrion Corp.'s payout ratio is 27.72%.
About Atrion Corp.
Atrion Corporation (Atrion) is engaged in developing and manufacturing products, primarily for medical applications. The Company's medical products range from fluid delivery devices to ophthalmic and cardiovascular products. Its fluid delivery products include valves that promote infection control and needle safety.
Receive News & Stock Ratings for Atrion Corp. Daily - Enter your email address below to receive a concise daily summary of the latest news and analysts' ratings for Atrion Corp. and related stocks with our FREE daily email newsletter.