Griffon Corp. (GFF) Releases Earnings Results, Beats Expectations By $0.02 EPS
Griffon Corp. (NYSE:GFF) announced its quarterly earnings data on Wednesday. The company reported $0.27 earnings per share (EPS) for the quarter, beating the Zacks' consensus estimate of $0.25 by $0.02. Griffon Corp. had a net margin of 1.69% and a return on equity of 8.42%. The firm earned $501 million during the quarter, compared to analyst estimates of $490.84 million. During the same quarter in the prior year, the firm posted $0.23 earnings per share.
Shares of Griffon Corp. (NYSE:GFF) traded up 1.24% during midday trading on Wednesday, hitting $20.40. 315,265 shares of the company were exchanged. Griffon Corp. has a 52-week low of $13.45 and a 52-week high of $20.60. The company has a 50-day moving average price of $16.84 and a 200-day moving average price of $16.80. The stock has a market capitalization of $827.36 million, a price-to-earnings ratio of 27.83 and a beta of 1.45.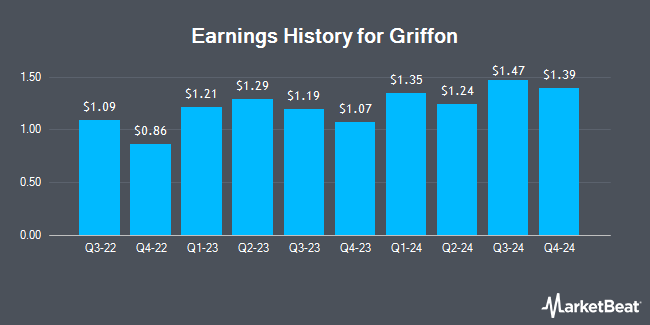 The company also recently disclosed a quarterly dividend, which will be paid on Thursday, December 22nd. Investors of record on Monday, December 5th will be issued a $0.06 dividend. This represents a $0.24 dividend on an annualized basis and a dividend yield of 1.18%. This is a positive change from Griffon Corp.'s previous quarterly dividend of $0.05. Griffon Corp.'s dividend payout ratio is currently 26.67%.
About Griffon Corp.
Griffon Corporation is a management and holding company that conducts business through its subsidiaries. The Company operates through three segments: Home & Building Products (HBP), Telephonics Corporation (Telephonics) and Clopay Plastic Products Company, Inc (PPC). The HBP segment consists of two companies: The AMES Companies, Inc (AMES) and Clopay Building Products Company, Inc (CBP).
Receive News & Stock Ratings for Griffon Corp. Daily - Enter your email address below to receive a concise daily summary of the latest news and analysts' ratings for Griffon Corp. and related stocks with our FREE daily email newsletter.