Newalta Co. (NAL) Earns Hold Rating from TD Securities
TD Securities reissued their hold rating on shares of Newalta Co. (TSE:NAL) in a research note released on Friday morning, StockTargetPrices.com reports. They currently have a C$2.50 price target on the stock.
Several other brokerages have also issued reports on NAL. Canaccord Genuity raised their target price on Newalta to C$3.50 and gave the stock a speculative buy rating in a research report on Saturday, August 6th. Scotiabank reaffirmed an outperform rating and set a C$5.00 target price on shares of Newalta in a research report on Friday, August 5th. GMP Securities lowered Newalta from a hold rating to a reduce rating in a research report on Friday, August 5th. Finally, National Bank Financial lowered Newalta from an outperform rating to a sector perform rating and set a C$2.00 target price for the company. in a research report on Thursday, November 10th. One equities research analyst has rated the stock with a sell rating, five have assigned a hold rating and two have issued a buy rating to the company's stock. The stock presently has a consensus rating of Hold and a consensus price target of C$2.70.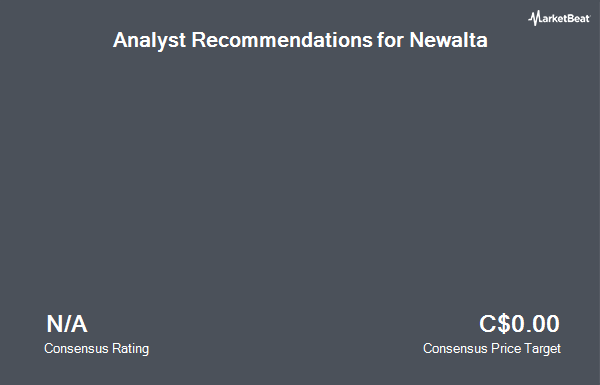 Shares of Newalta (TSE:NAL) opened at 2.05 on Friday. The company's market capitalization is $180.70 million. The stock has a 50 day moving average price of $2.30 and a 200-day moving average price of $2.23. Newalta has a one year low of $1.45 and a one year high of $5.57.
About Newalta
Newalta Corporation is a Canada-based provider of engineered environmental solutions to the oil and gas industry. The Company's segments include Heavy Oil and Oilfield. The Company's Heavy Oil segment processes oilfield-generated wastes, including treatment, water disposal, salt cavern disposal, landfilling, and the sale of recovered crude oil.

Receive News & Stock Ratings for Newalta Co. Daily - Enter your email address below to receive a concise daily summary of the latest news and analysts' ratings for Newalta Co. and related stocks with our FREE daily email newsletter.