Tortoise MLP Fund, Inc. (NTG) To Go Ex-Dividend on November 21st
Tortoise MLP Fund, Inc. (NYSE:NTG) announced a quarterly dividend on Tuesday, November 8th. Shareholders of record on Wednesday, November 23rd will be given a dividend of 0.4225 per share by the investment management company on Wednesday, November 30th. This represents a $1.69 dividend on an annualized basis and a yield of 8.58%. The ex-dividend date of this dividend is Monday, November 21st.
Shares of Tortoise MLP Fund (NYSE:NTG) opened at 19.69 on Wednesday. The firm's 50-day moving average is $19.10 and its 200-day moving average is $18.87. Tortoise MLP Fund has a 12-month low of $11.60 and a 12-month high of $20.82.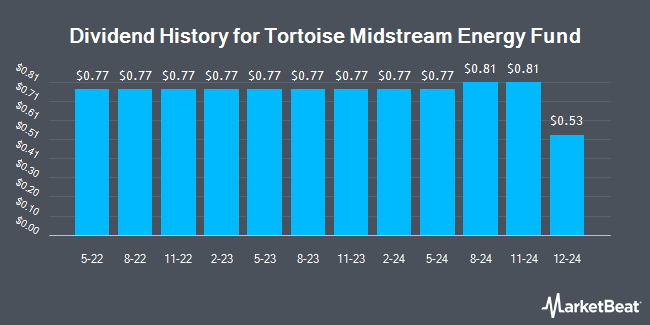 Tortoise MLP Fund Company Profile
Tortoise MLP Fund, Inc is a non-diversified, closed-end management investment fund. The Fund's primary investment objective is to seek a high level of total return with an emphasis on current distributions. It invests primarily in master limited partnerships (MLPs) and their affiliates that own and operate a network of pipeline and energy-related logistical infrastructure assets.
Receive News & Stock Ratings for Tortoise MLP Fund Inc. Daily - Enter your email address below to receive a concise daily summary of the latest news and analysts' ratings for Tortoise MLP Fund Inc. and related stocks with our FREE daily email newsletter.