Ecology and Environment Inc. (EEI) Posts Earnings Results
Ecology and Environment Inc. (NASDAQ:EEI) issued its quarterly earnings data on Wednesday. The company reported $0.12 EPS for the quarter. The business had revenue of $25.89 million for the quarter, compared to analysts' expectations of $35.12 million. Ecology and Environment had a net margin of 1.10% and a return on equity of 3.22%.
Shares of Ecology and Environment (NASDAQ:EEI) opened at 9.30 on Thursday. The stock's 50 day moving average is $9.68 and its 200-day moving average is $10.20. Ecology and Environment has a 52 week low of $8.51 and a 52 week high of $11.53. The firm has a market cap of $39.89 million, a PE ratio of 31.53 and a beta of -0.09.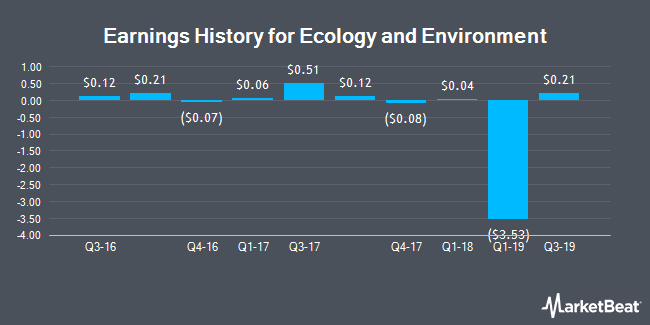 About Ecology and Environment
Ecology and Environment, Inc (EEI) is a global broad-based environmental consulting firm. Together with its subsidiaries, EEI has direct and indirect ownership in eleven active wholly-owned and majority-owned operating subsidiaries in six countries. EEI has completed more than 50,000 projects for a range of clients in 120 countries, providing environmental solutions.
Receive News & Stock Ratings for Ecology and Environment Inc. Daily - Enter your email address below to receive a concise daily summary of the latest news and analysts' ratings for Ecology and Environment Inc. and related stocks with our FREE daily email newsletter.