Kyle Cerminara Purchases 14,894 Shares of Ballantyne Strong Inc (BTN) Stock
Ballantyne Strong Inc (NYSE:BTN) CEO Kyle Cerminara purchased 14,894 shares of Ballantyne Strong stock in a transaction dated Friday, November 11th. The shares were purchased at an average cost of $6.71 per share, for a total transaction of $99,938.74. The acquisition was disclosed in a filing with the Securities & Exchange Commission, which is available at this hyperlink.
Shares of Ballantyne Strong Inc (NYSE:BTN) opened at 6.90 on Thursday. The company's 50 day moving average is $6.73 and its 200-day moving average is $5.74. Ballantyne Strong Inc has a one year low of $4.00 and a one year high of $7.14. The firm's market capitalization is $98.23 million.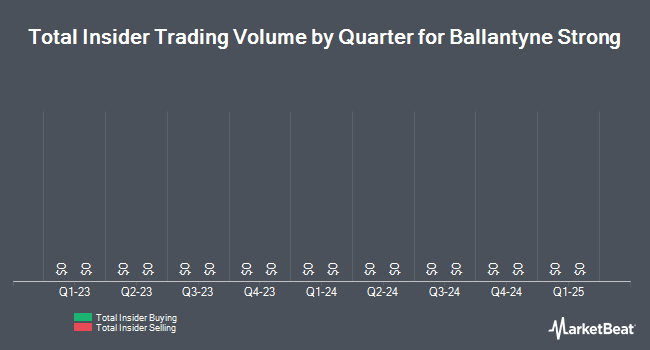 About Ballantyne Strong
Ballantyne Strong, Inc is a holding company. The Company's business activities focus on serving the cinema, retail, financial and government markets. The Company and its subsidiaries design, integrate and install technology solutions for a range of applications; develop and deliver out-of-home messaging, advertising and communications; manufacture projection screens, and provide managed services, including monitoring of networked equipment to its customers.
Receive News & Stock Ratings for Ballantyne Strong Inc Daily - Enter your email address below to receive a concise daily summary of the latest news and analysts' ratings for Ballantyne Strong Inc and related stocks with our FREE daily email newsletter.