CRH PLC (UK) (CRH) Rating Reiterated by Beaufort Securities
CRH PLC (UK) (LON:CRH)'s stock had its "hold" rating reissued by equities researchers at Beaufort Securities in a report released on Friday.
A number of other equities analysts have also recently commented on the company. Societe Generale raised CRH PLC (UK) to a "buy" rating and set a GBX 3,300 ($41.23) price target for the company in a report on Friday, October 21st. Bank of America Corp. boosted their price objective on CRH PLC (UK) from GBX 2,500 ($31.23) to GBX 2,600 ($32.48) and gave the stock a "neutral" rating in a research report on Wednesday, September 14th. Finally, Numis Securities Ltd lowered CRH PLC (UK) from an "add" rating to a "hold" rating and set a GBX 2,800 ($34.98) price objective on the stock. in a research report on Friday, August 26th. One investment analyst has rated the stock with a sell rating, four have issued a hold rating and three have assigned a buy rating to the stock. CRH PLC (UK) presently has an average rating of "Hold" and a consensus price target of GBX 2,640.17 ($32.99).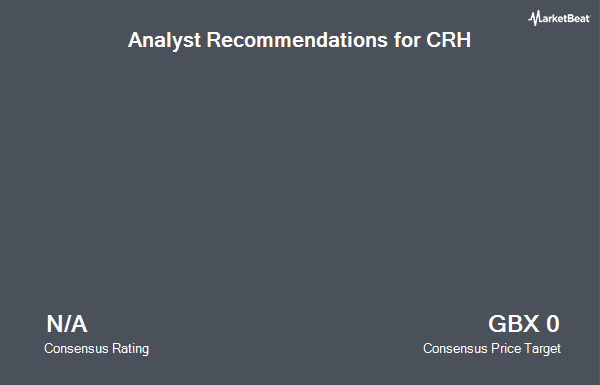 Shares of CRH PLC (LON:CRH) opened at 2746.00 on Friday. The firm's market cap is GBX 22.66 billion. The stock's 50 day moving average price is GBX 2,669.49 and its 200-day moving average price is GBX 2,353.15. CRH PLC has a 52-week low of GBX 1,581.00 and a 52-week high of GBX 3,029.00.
About CRH PLC (UK)
CRH plc manufactures and distributes a range of products servicing the construction needs, from the fundamentals of heavy materials and elements to construct the frame, through exterior products that complete the building envelope, to distribution channels, which service construction fit-out and renewal.
Receive News & Stock Ratings for CRH PLC (UK) Daily - Enter your email address below to receive a concise daily summary of the latest news and analysts' ratings for CRH PLC (UK) and related stocks with our FREE daily email newsletter.