ENTREC Corp to Post FY2016 Earnings of ($0.17) Per Share, Clarus Securities Forecasts (ENT)
ENTREC Corp (TSE:ENT) – Stock analysts at Clarus Securities increased their FY2016 earnings per share (EPS) estimates for ENTREC Corp in a note issued to investors on Monday. Clarus Securities analyst S. Kammermayer now forecasts that the brokerage will post earnings of ($0.17) per share for the year, up from their prior forecast of ($0.18). Clarus Securities also issued estimates for ENTREC Corp's Q4 2016 earnings at ($0.05) EPS, Q1 2017 earnings at ($0.04) EPS, Q2 2017 earnings at ($0.04) EPS and Q3 2017 earnings at ($0.03) EPS.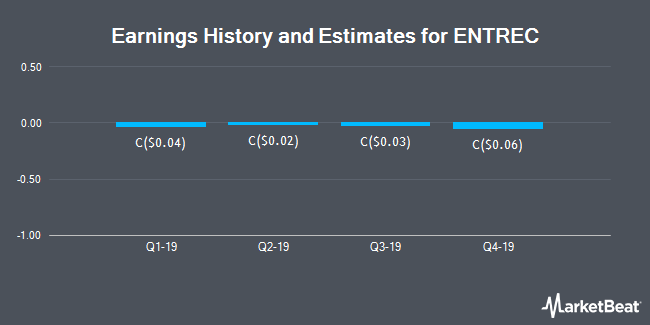 Separately, Canaccord Genuity cut their price objective on shares of ENTREC Corp from C$0.35 to C$0.30 in a research report on Thursday, October 13th.
Shares of ENTREC Corp (TSE:ENT) opened at 0.21 on Wednesday. The firm has a 50-day moving average of $0.23 and a 200 day moving average of $0.27. ENTREC Corp has a 52-week low of $0.19 and a 52-week high of $0.36. The firm's market capitalization is $22.99 million.
About ENTREC Corp
ENTREC Corporation provides heavy haul transportation and crane solutions. The Company operates a fleet of approximately 210 cranes, 760 multi-wheeled trailers and 210 tractors, as well as 400 lines of platform trailers. Its crane fleet consists of rough-terrain cranes, mobile cranes, crawlers, carry decks and picker trucks.
Receive News & Stock Ratings for ENTREC Corp Daily - Enter your email address below to receive a concise daily summary of the latest news and analysts' ratings for ENTREC Corp and related stocks with our FREE daily email newsletter.