Mattioli Woods plc's (MTW) Hold Rating Reaffirmed at Canaccord Genuity
Canaccord Genuity reaffirmed their hold rating on shares of Mattioli Woods plc (LON:MTW) in a research report sent to investors on Thursday morning. The firm currently has a GBX 735 ($9.18) target price on the stock.
Several other brokerages also recently commented on MTW. Macquarie reiterated an outperform rating and set a GBX 820 ($10.24) price target on shares of Mattioli Woods plc in a report on Tuesday, August 30th. FinnCap reiterated a hold rating on shares of Mattioli Woods plc in a report on Thursday, September 8th. Three analysts have rated the stock with a hold rating and two have issued a buy rating to the stock. The stock has a consensus rating of Hold and an average target price of GBX 708.75 ($8.85).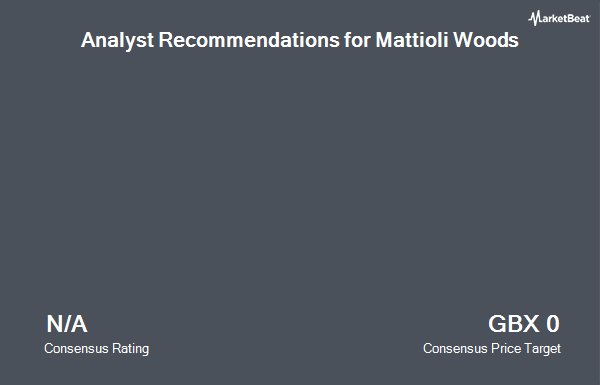 Mattioli Woods plc (LON:MTW) traded up 1.56% during midday trading on Thursday, hitting GBX 717.00. The company's stock had a trading volume of 1,910 shares. Mattioli Woods plc has a 12 month low of GBX 566.00 and a 12 month high of GBX 750.00. The firm's market cap is GBX 180.72 million. The company's 50 day moving average price is GBX 704.82 and its 200 day moving average price is GBX 675.15.
The business also recently announced a dividend, which was paid on Tuesday, November 1st. Shareholders of record on Thursday, September 22nd were paid a GBX 8.65 ($0.11) dividend. This is an increase from Mattioli Woods plc's previous dividend of $3.85. This represents a yield of 1.27%. The ex-dividend date of this dividend was Thursday, September 22nd.
Mattioli Woods plc Company Profile
Mattioli Woods plc is a United Kingdom-based provider of wealth management and employee benefit services. The Company's principal services include wealth management, employee benefits and pensions. Its operating segments include Direct pension consultancy and administration, which provides Self Invested Personal Pension and Small Self-Administered Pension Scheme arrangements; Third party pension administration, which offers pensions administration; Investment and asset management; Property management, consisting of the operations of Custodian Capital Limited, and Employee benefits, which offers solutions to assist its corporate clients around employee engagement.
Receive News & Stock Ratings for Mattioli Woods plc Daily - Enter your email address below to receive a concise daily summary of the latest news and analysts' ratings for Mattioli Woods plc and related stocks with our FREE daily email newsletter.